The FARMGOLF NEWSLETTER
---
We Are "A Practical Solution to Global Warming",  US FarmGolf Open Results,  British FarmGolf Open Results,  FarmGolf Meeting Set for August 6th,  Nine-Irony Poem,  FarmGolf Sued – Re: Issue No. 1 of FarmGolf Celebrity Newsletter,  Judge Judy Agrees to Hear Case in Barbour County,   FarmGolf PGA Set for Sunday, August 12th

---
Founded in the Year 2000 – The Whole Truth and Nothing But the Truth about FarmGolf
  We Are "A Practical Solution to Global Warming"
(FGP)  The 2nd Issue of the FarmGolf Celebrity Newsletter was published on July 17, 2007.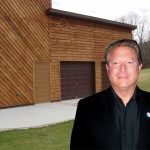 "My further investigative studies over the past few months have concluded that massive construction of these courses over the next 5 years throughout the United States could reduce the average temperatures by a minimum of 5 degrees F." Albert Arnold Gore, Jr.
Guest Celebrity Al Gore, Jr., gave an endorsement to FarmGolf, as potentially being the solution to Global Warming.
There had been a long time between FarmGolf Celebrity Newsletters, as the inaugural issue with Mel Gibson was put out in September of 2006.
If people follow Gore's directive in the newsletter, FarmGolf can be expected to grow significantly in the near future, and further expand the world's fastest growing sport.
2007 US FarmGolf Open Results
(FGP)  Five teams played in the 2007 US FarmGolf Open, with the team of Bowers, Bowers and Runner leading all three rounds.  However, the play of Bodkins, Mitchell and Fitzwater gave them a run for the money in the final round, coming up one stroke short.
The feature shot of the day was Curtis Bodkins holing the second shot on the Par 5 Hole No. 4 for a double-eagle.  This double-eagle was the first in team play and only the second in FarmGolf history.  The other double-eagle occurring in a singles match between Mike Green and Neil Creed, where Green double-eagled from 105 yards and Creed eagled from 40 yards.
The streak of three consecutive majors won by Josh Halfin came to an end, primarily due to FarmGolf seeding the top players on separate teams.  There was some grumbling about starting up a "boycottfarmgolf.com" website.
2007 US FarmGolf Open Scoreboard

2007 US FarmGolf Open Gallery
2007 British FarmGolf Open Scoreboard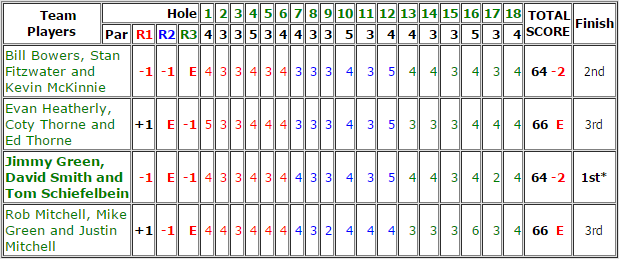 * Won in playoff on the 5th Hole

(FGP)  Course conditions were extremely tough for the British FarmGolf Open, with a 2-under good enough to get your team into a playoff.
The playoff began on No. 5 Hole, where all previous playoffs have ended.  However, this time we would go nearly a whole round of six holes before crowning a winning team.
2007 British FarmGolf Open Gallery
FarmGolf Meeting Set for August 6th
(FGP)   FarmGolf has scheduled the bi-annual meeting with the Board of Directors and all FarmGolf Team members, including the 3 members of FarmGolf's legal team, on the evening of August 6, 2007 at the FarmGolf Clubhouse.  Topics will include:
1. The proposed FarmGolf Employee stock option plan
2. Investment of expected royalties from new FarmGolf Courses
3. Request for a special tax exemption for the New York City course
John Johnston, FarmGolf Legal Counsel and Vice-President of Asian Marketing, will give a talk regarding the permitting processes involved with FarmGolf's upcoming rapid expansion throughout the United States to assist in solving the Global Warming problem.
Lynn Phillips, FarmGolf Legal Counsel and Brushhogging Specialist, will present a slide show of FarmGolf photography over the years, highlighting the beginning of the sport in 2002, the government grants procured by state and federal officials, and some of his favorite, intimate moments meeting celebrititties.
Chet Walker, FarmGolf Legal Counsel and International Travel Coordinator, will give a presentation on the upcoming European Marketing Plan for 2007, as well as a plan for expanding into China in 2008. He will also recap the Ireland and England trip of last fall, and summarize the travel itinerary of the Commissioner and Deputy Commissioner's September, 2007 trip to Germany, Austria and the Czech Republic. This is another in a series of events to spread the gospel of FarmGolf.
Thomas Wolfe, Vice-President of South American Marketing, will come down from Michigan, and report on attempts to get FarmGolf into Brazil. This has been an area that FarmGolf has been unable to crack, since initial overtures were made by the Commissioner in 2001.
Also, salary adjustments for all FarmGolf employees will be discussed. There have been no raises at FarmGolf since late 2005, and increases ranging from 10% to 30% have been proposed as feasible by our accounting department. Also, a minimum base salary of $35,000 is being considered for all part-time employees. Minimum salaries and a final raise percentage for the "higher echelon" employees will be voted upon at the meeting.
In addition, the FarmGolf Music Library is again reaching it's limit of 300GB and is in need of approval from the RIAA to a higher level, such as 400GB or more. The last negotiation took several months before final approval.
All members are encouraged to attend this most informative meeting.
FarmGolf Sued by Previous Celebrity Guest
(FGP)   FarmGolf received word on July 26, 2007 from Blair Berk, attorney for Lindsay Lohan, that her client was planning to sue FarmGolf in regard to Issue No. 1 of the FarmGolf Celebrity Newsletter.  The reason being that her client, Ms. Lohan, had followed the instructions religiously, yet still received a DUI.
As you may recall, Ms. Lohan has been to FarmGolf on two different occasions, once with Paris Hilton and the second time at the December 29, 2004 FarmGolf banquet.  This legal problem will be discussed, along with many other items, at the August 6th bi-annual meeting.
While the charge appears questionable, one never knows what might happen, as the bigger that FarmGolf gets, the bigger of a target that it becomes.  Regardless of any bumps in the road, FarmGolf will continue to try and maintain it's position as the world's fastest growing sport.
FarmGolf has made a request for Judge Judy to hear this case, and have been informed by a confidential email that she is willing to hold court near FarmGolf on one condition, that we find a suitable venue in Barbour County.
6th FarmGolf PGA – Sunday August 12, 2007
(FGP)   The fourth and final major of 2007 will be held next Sunday, August 12th, with tee times of 1PM and 2PM again available.
All golfers will need to either be here by 2PM or call the Clubhouse prior to 2PM and state your approximate time of arrival.
The format will be three players per team, with each team playing three rounds of golf for a total of 18 holes.  FarmGolf will furnish hot dogs, with all the trimmings.
A separate covered dish item is requested of all golfers.