FarmGolf

 

Celebrity Newsletter
 

FarmGolf

                         The World's Fastest Growing Sport            www.farmgolf.com
---

I

ssue No. 2 – July 17, 2007
Second Edition  with Special Guest Celebrity
AL GORE, Jr.
---
Although I had never been to the FarmGolf Course in West Virginia until the spring of 2007, I had heard about it from former President Clinton. 
He had played the course in 2002, and made comments as to it's extremely unique golfing design, as well as the many innovations being  tested there.
In the December, 2006 Issue of Environmental Numbnut, I read a short excerpt on their methods of harnessing rogue Clubhouse methane emissions, storing the gases until winter, and then burning it as an auxiliary winter heating fuel.
In addition, I have been studying satellite infrared imaging photos, which measure the heat energy that the Earth emits, and found to my surprise that the coolest spot east of the Mississippi River was located in north central WV, and in fact, was the original FarmGolf Course. 
Therefore, I arranged a trip to study this facility in conjunction with my next film, An Inconvenient Truth, Part II.
My further investigative studies over the past few months have concluded that massive construction of these courses over the next 5 years throughout the United States could reduce the average temperatures by a minimum of 5oF.
While the implementation of a large scale, nationwide FarmGolf course construction program could cause a small increase in the amount of soil runoff, the overall benefits would far outweigh any potential problems.
I, Albert Arnold Gore, Jr., hereby declare that FarmGolf is a practical solution to Global Warming, and I heartily endorse it's rapid expansion.
And finally, let us hope that FarmGolf continues to be the world's fastest growing sport, and we once and for all put Global Warming into it's final lockbox.
A Practical Solution to Global Warming
10 Reasons to Immediately Begin the Building of Your Very Own FarmGolf Course
1. The construction of a FarmGolf course, ranging in size from two to six holes, will significantly reduce your carbon footprint. Of course, the larger course would be preferable, as one could triple the total number of carbon credits.
2. Using the FarmGolf method of utilizing a local water source, such as a drilled well, for course irrigation, the net effect is a cooling of the earth's surface through the underground piping network of waters running from the well head to the individual greens. This results in a significant reduction in final ground surface temperatures, and lessens the carbon footprint that would occur if water were purchased from a public water utility, as the utility creates a significant amount of sludge during water treatment.
3. The utilization of a state-of-the-art electric cart, like FarmGolf uses, will lessen the net emission levels throughout the course area, as well as areas adjacent to the course. Gasoline powered carts, like gas guzzling automobiles, pollute our air by adding to the total amount of greenhouse gases.
4. Following the FarmGolf golf-walking initiative, which I created, of using no mechanically-powered transportation vehicles, is being environmentally conscious. The golf cart at FarmGolf is used only for Clubhouse to parking area transportation. The Al Gore Walking-only Initiative significantly lessens the environmental degradation when compared to a typical, regularly designed golf course.
NOTE: A secondary benefit is maintaining an acceptable body weight. This is my primary reason for beginning the construction of my course, as I feel Tipper is really in need of a FarmGolf course.
5. The removal of a portion of your land from farming with the construction of a FarmGolf course will allow you to receive carbon credits from the National Farmers Union.
6. Construction of a course, following FarmGolf specifications, utilizes many small ponds in the overall design. The original six-hole FarmGolf course has 5 ponds over 6 holes. These small ponds are instrumental in trapping CO° gases and holding them in liquid suspension, with a net reduction in ground surface temperatures.
7. FarmGolf has another innovative approach, in that there is no commode at the Clubhouse. With only a urinal for bodily wastes, the amount of methane produced from decaying fecal matter is reduced to an infinitesimal amount, and yet another net reduction in the total carbon footprint.
8. The FarmGolf course has also never received a direct hit from a hurricane. Further proof that the environmental forces at work between the tee boxes, the greens and associated piping systems interact to eliminate severe climatological events in areas where a FarmGolf course is constructed.
9. Using a very strict criteria for Clubhouse construction, consisting of materials using only natural woods, such as cedar for the exterior and oak for the interior provide a significant reduction in total toxic emissions. The elimination of man-made synthetic exterior materials is another unique FarmGolf innovation, which helps in controlling environmental degradation.
10. And last, FarmGolf has promised to donate 3% of all net profits, resulting from associated course design fees to SOS*.
*Save Our Selves is the name of a group of activists organized to raise awareness of global climate change.
---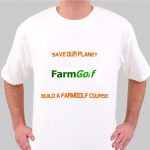 Even if you can't Build Your Own FarmGolf Course, you
can still help Al by buying a t-shirt to show your support.
(Just ask for the "GoreShirt" and specify your size)
---
ONE LAST CHANCE TO HELP OUR CAUSE
If you don't own land, or are well up in years, or live in the city and wish to help, just send your contribution to:   FarmGolf, 9152 Morgantown Pike, Philippi, WV 26416
and make your check payable to: "The Commissioner".  Thank you for your support.