The FARMGOLF NEWSLETTER
---
FarmGolfers Travel to Augusta … FarmGolf Masters Results … The Paris Report Goes On Hiatus … Spring Celebrity FarmGolf Challenge Set … Nine Irony Poem …
New FarmGolf Messageboard Coming In June …
Second Major on Father's Day, June 18th
---
Founded in the Year 2000 – The Whole Truth and Nothing But the Truth about FarmGolf
  FarmGolfers Perform At Augusta National Golf Club
(FGP) In early March of 2006, FarmGolf received an invitation to travel to the Augusta National Golf Club, home of annual Masters Golf Tournament. Hootie Johnson, Chairman of Augusta National Golf Club, had been hearing stories from more than one professional golfer that he should "check out" this recently developed sport, which had so quickly turned into the world's fastest growing sport.
The invitation from Mr. Johnson stated that we would be welcome to play one exhibition round on Wednesday, the day before the actual Masters Tournament started. So, FarmGolf hired a limousine to take several of the Top 50 FarmGolfers in the World to the course for a midday April 5th tee time.
Mingling with several of the professional golfers before play, we impressed both old and new acquaintances with our unique style of golf. All of the professional golfers who attended the 2004 Bush-Kerry Celebrity Challenge were in attendance.
After some private conversations, it was time to get on the course. Some of us went straight to the course, while six of us decided to pose for some photos outside one of the most famous Clubhouses in the world. We aren't quite sure what the Club Pro was looking for behind the flower bed.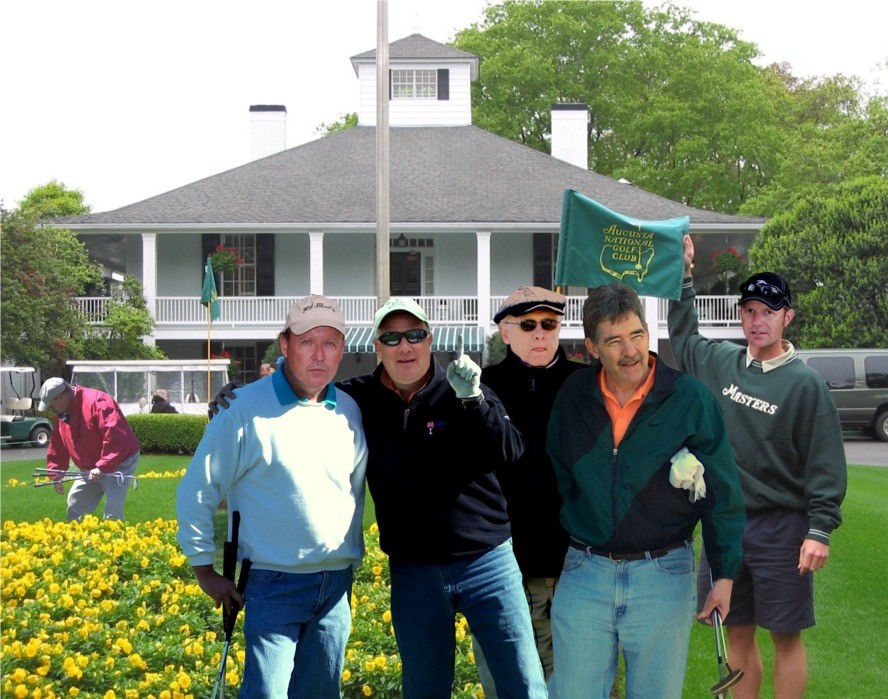 A few more photos from our round of golf at Augusta are shown below.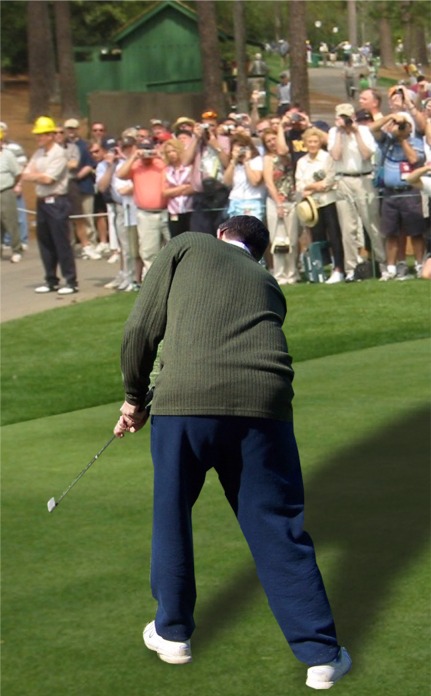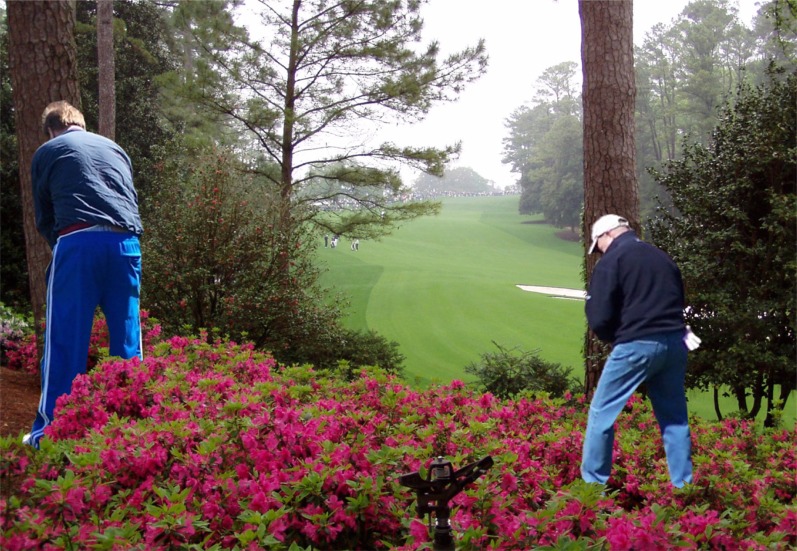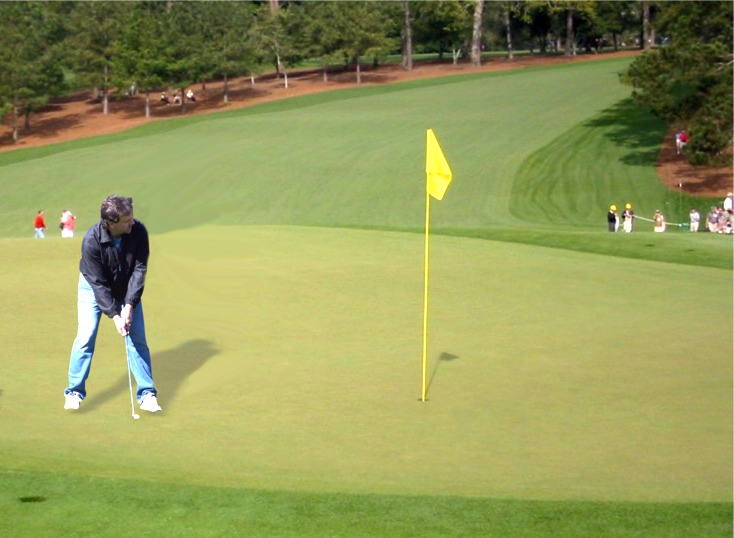 2006 FarmGolf Masters Report
(FGP) The 5th FarmGolf Masters saw a smaller than normal field due to several circumstances:
1) Both of the Top 2 FarmGolfers made it known that they would be there and were wanting to kick some ass
2) Some bowling groupies had sent several explicit pictures to FarmGolf, which would entice some of our younger players to attend a state bowling tournament in Charleston, West Virginia rather than the FarmGolf Masters, and finally
3) Some of the guys were just tired from all of the activities of our field trip to the Augusta National Golf Club
There was little drama in this tournament as the first place team of Larry Smith, Miles Runner and Mike Green led wire to wire to take a 3-stroke victory. Miles Runner using the drive right, putt left approach to this tournament made three consecutive putts, as all three players on the winners made solid contributions throughout the day.
Bill Bowers had his two-match win streak stopped, and his team comprised of Chris Bowers and G Sparks placed second by finishing strong.
The third place team of Brian Smith, Neil Creed and Gary Shaffer played a slow, methodical match and finished well after the others.
2006 Masters
Scoreboard
   Team Players

        Hole

1

2

3

4

5

6

7

8

9

10

11

12

13

14

15

16

17

18

TOTAL
SCORE

Finish

Par

R1

R2

R3

4

3

3

5

3

4

4

3

3

5

3

4

4

3

3

5

3

4

Larry Smith, Miles Runner and Mike Green

-2

-4

-2

3

3

2

5

3

4

3

3

2

4

3

3

3

3

3

4

3

4

58

–

8

1st

Bill Bowers, Chris Bowers and G Sparks

E

-2

-3

4

3

3

4

3

5

4

3

3

4

2

4

3

3

2

4

3

4

61

–

5

2nd

Brian Smith, Neil Creed and Gary Shaffer

+1

+1

+1

3

4

4

3

3

6

4

3

3

5

3

5

4

3

3

4

3

6

69

+3

3rd

David Smith et al

+1

 

 

4

3

4

4

3

5

 

 

 

 

 

 

 

 

 

 

 

 

 DNF

4th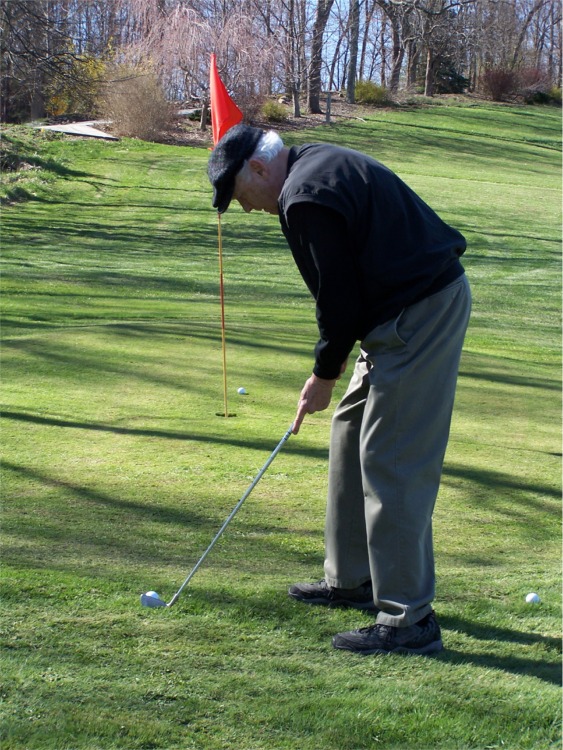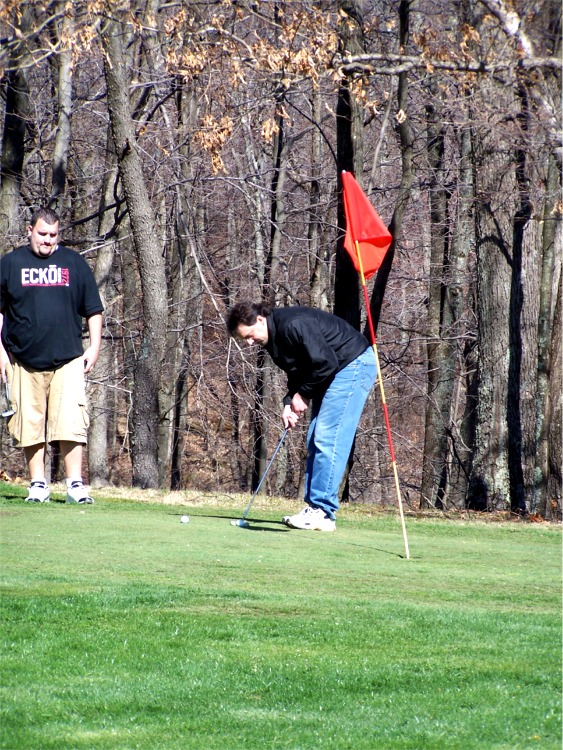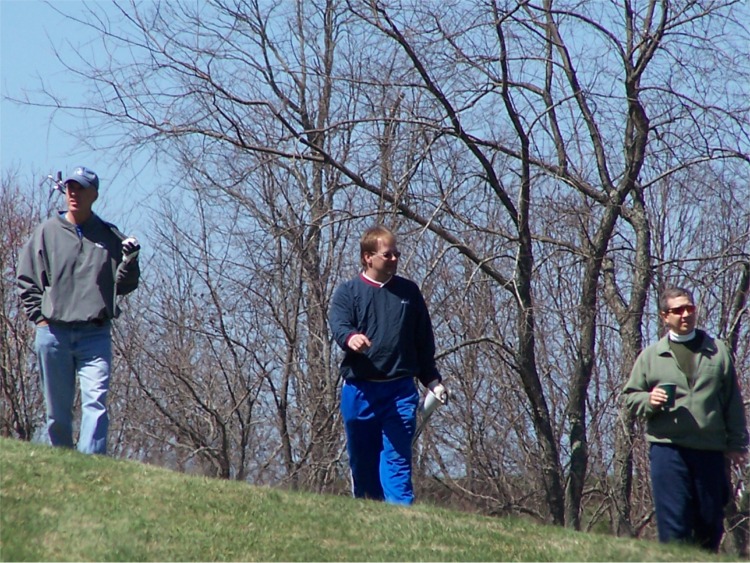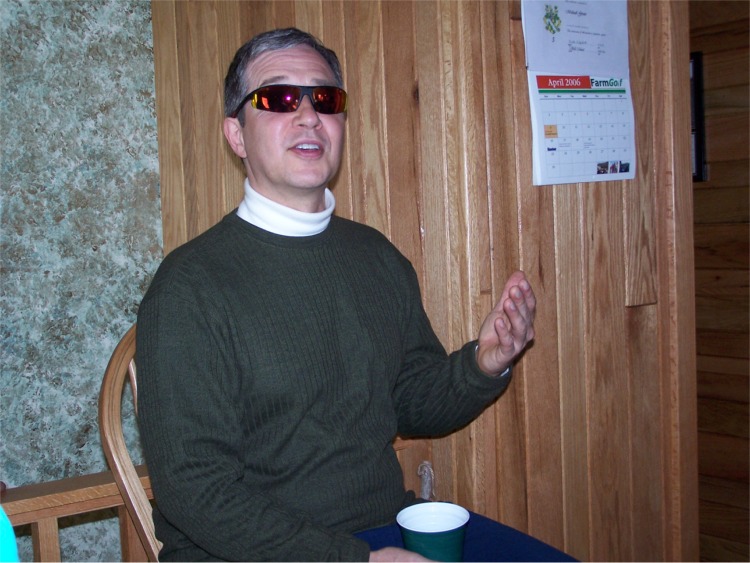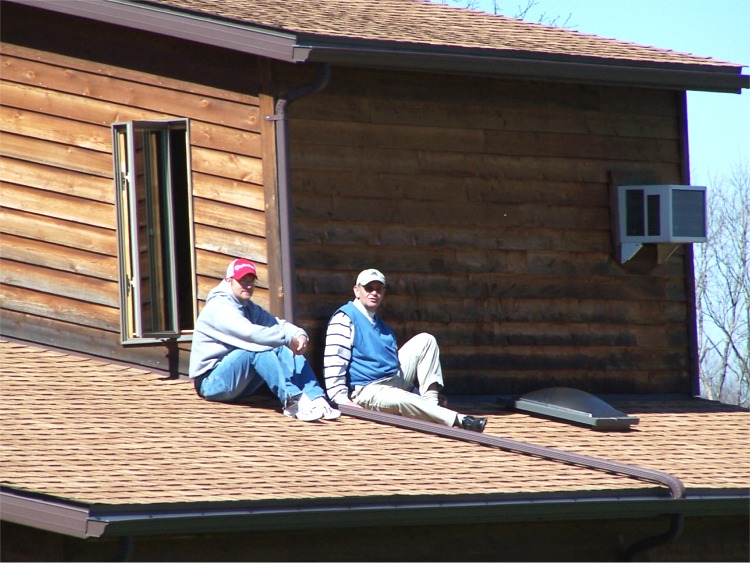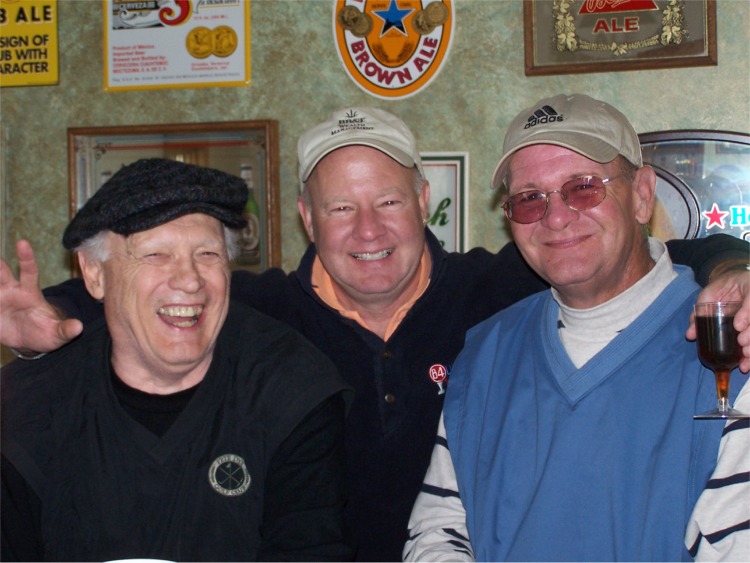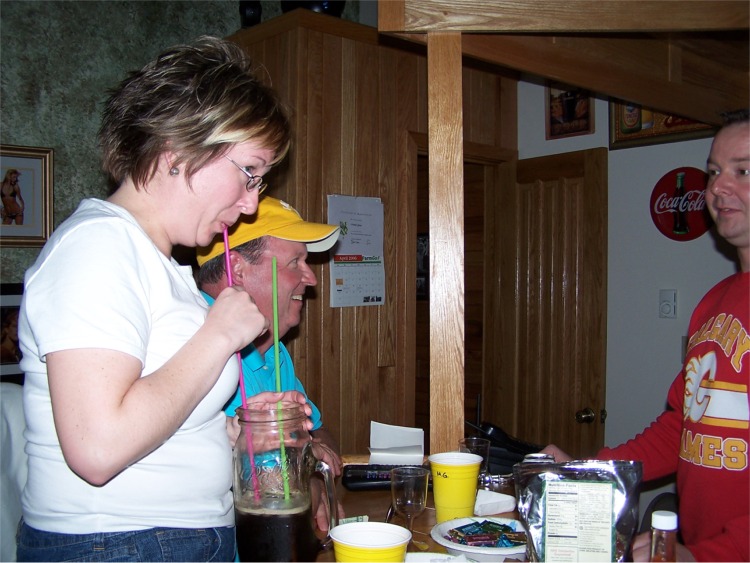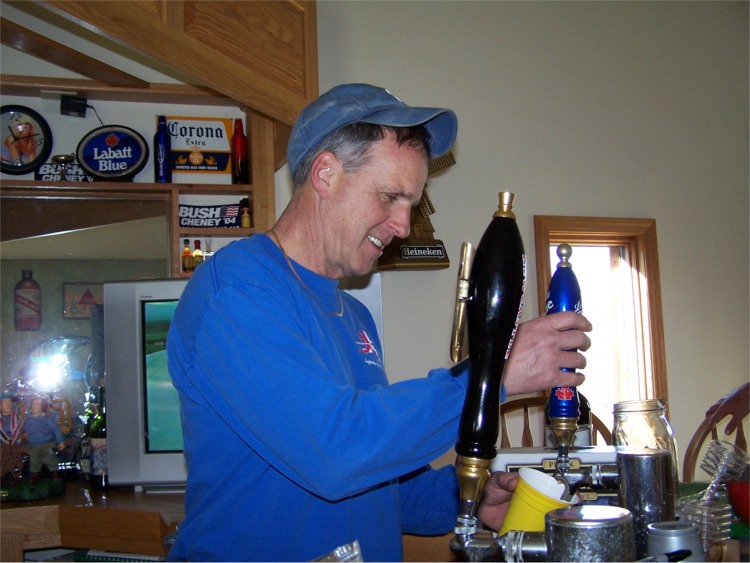 T
he
P
aris
R
e
p
o
r
t  –  
Is Now on Indefinite Hiatus
(FGP) In a startling development, Paris Hilton recently sent the following email to the Commissioner on April 3rd.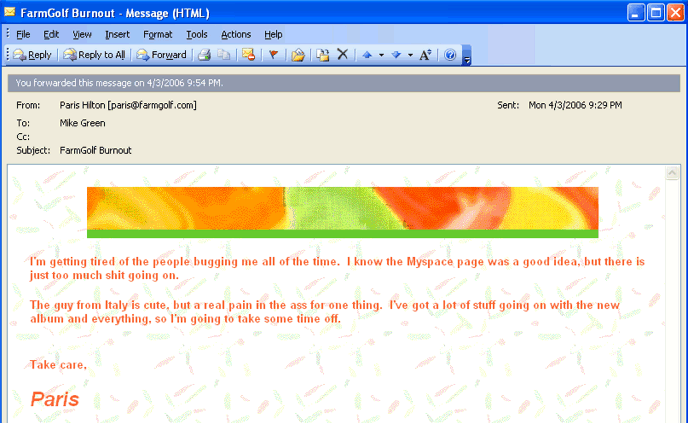 Although the first 2006 issue of The Paris Report was several days overdue, this email was totally unexpected.  While FarmGolf is quite experienced in the idiosyncrasies of celebrities, Paris has always had somewhat of a dedication toward her job.  Even the new MySpace page that was solely dedicated to FarmGolf was Paris's idea.
FarmGolf is not a sport that dwells on it's troubles, and is planning on developing a new FarmGolf Celebrity Report.  This new report will allow for various celebrities, that are familiar with FarmGolf, to give their firsthand experience and evaluations of the ins and outs of the sport.
And in a first, men as well as women celebrities, will guest host the new column.  This column is expected to debut in June, 2006.
So, in conclusion, we don't know what the future holds for Paris, but we are hardly worried.  FarmGolf will go on!
Next FarmGolf Celebrity Challenge Plans Concluded
(FGP) While we don't want to divulge all of the details of the participants in this newsletter, rest assured that the scheduled matchup will be one of the hottest events of the 2006 FarmGolf season. Advance tickets for the May 7, 2006 "Teacher Showdown" are available for $30 each by contacting sysop "at" farmgolf.com for details.
As discussed in the January newsletter, the FarmGolf Celebrity Challenge has always been a crowd pleaser, and we are expecting an all-time record crowd. The initial celebrity challenge in 2003 featured Scott Peterson against O. J. Simpson, and had a paid attendance of over 4,000 people.
Nine Irony's Latest Poem
Think I'll Stay
(The Boyfriend's Response to Kelly Clarkson's Walk Away)
 
Yes it's true we talk about you, you've no clue
Cause no one tells me what to say.
I know you're smart.
But Cupid's arrows can't touch my heart,
Cause your loves the shield that keeps them away.
Blame is not the game you see.
Keep your trigger on safety and
I agree the situations getting old.
But when I talk you don't listen to me.
You have my full attention.
And there is no question of
Should I stay or should I go.
Our feelings are mutual
If you don't know now soon you will.
Hey Hey Hey Hey
I think I'll stay.
I think I'll stay. I think I'll stay.
 
What is the trash about after school?
I always apply the Golden Rule.
I don't do unto you as you've done to me.
Mostly, you've treated me good it's true,
But I've always been there for you.
 
You have my full attention.
And there is no question of
Should I stay or should I go.
Our feelings are mutual
If you don't know now soon you will.
Hey Hey Hey Hey
I think I'll stay.
I think I'll stay. I think I'll stay.
 
I'll give you love.
A blazin' fire.
You'll feel the burn
Of my desires
I'll be the man by your side.
Never will you see me hide.
Fight, die, live, and breathe for you,
But I want you to know.
Lovin' is a two way street and
Half way down we must meet
If you want our love to grow.
 
You have my full attention.
And there is no question of
Should I stay or should I go.
Our feelings are mutual
If you don't know now soon you will.
Hey Hey Hey Hey
I think I'll stay. I have the answer.
I'll stay. I think I'll stay.
I'm staying with you!
New and Improved FarmGolf Messageboard Coming Soon
(FGP) FarmGolf's Messageboard has been closed for almost a year now, as it was being bombarded with spam originating from the far east. Several messages had to be deleted on a daily basis.
One message was retained on the site for display purposes only and in a closing statement (illustrated below) by FarmGolf freelance attorney, Heywood Jublome, the FarmGolf Messageboard was officially closed on June 10, 2005.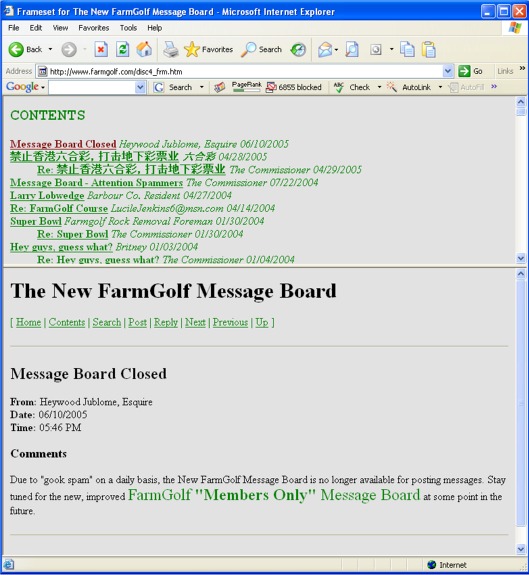 FarmGolf is pleased to announce that a new members only board will begin on June 10, 2006, the anniversary date of the demise of the old messageboard. The newer board will require all message posters to forward their message either to bill@farmgolf.com or mike@farmgolf.com for final approval.
If the submitted message is approved, it will then be posted on this extremely private forum. Spammers will have no chance at taking over this board as there will be no public link available online.
  5th US FarmGolf Open – Sunday June 18, 2006
(FGP)   The second major tournament of the 2006 season will again be held on Father's Day, with staggered tee times of 1PM and 4PM.
The format will be three players per team, with each team playing three rounds of golf for a total of 18 holes.  A covered dish item is expected of all golfers.