The FARMGOLF NEWSLETTER
---
FarmGolf Music Screams To The Top of the Charts, FarmGolf Banquet Set for Sunday,

2004 FarmGolf Masters Scheduled for April 11th,

Major Political Golfing Match To Be Scheduled This Summer
---
2004 Brings A Day of Infamy to FarmGolf Music
(FGP)   As music has become a much larger part of FarmGolf over the past six (6) months, it was only fitting that the first massively-marketed song from the FarmGolf Music division, "Howard Dean's Crazy Train", would skyrocket to FarmGolf Music Recording Industry "Platinum Status" within 30 hours.
(Note: FMRI Gold Status is 500 song downloads, Platinum Status is 1,000 song downloads) 
Since Cary Sherman, President of the Recording Industry Association of America (RIAA), visited the Clubhouse in August of last year and encouraged the rapid expansion of the FarmGolf Music Library to a maximum of 200 GB of music (approximately 2,500 albums and 12,000 singles), FarmGolf has been planning to become a marketing force in the world of music.
With the current FarmGolf Music Library at 122 GB on the date of this newsletter, it is only fitting that some locally-produced music comprise a portion of the overall music library.  Plans were discussed in detail at the December FarmGolf Board of Directors meeting, with a formal plan for maximizing music offerings implemented.
As there were still some remaining funds from the previous federal grant presented to FarmGolf at the Clubhouse ceremony by President Bush on December 3, 2002, it was decided to use some of these funds to record and produce some new "cutting edge" music.  It was also hoped that our support would maximize the potential of receiving another grant in the future.
So, while the "State of the Union" message was being delivered on the night of January 20, 2004, FarmGolf Music personnel were in Des Moines, Iowa at a recording studio with Howard Dean and Ozzy Osbourne.  Howard was a bit despondent over his poor showing in the Iowa presidential contest and was ready to let off a little steam.  The final recording was completed in less than two hours, and published to the internet at 1AM on Wednesday, January 21st.  It was also announced to various pertinent websites later that morning.
Sales immediately took off with total first day sales at 800 units.  The next day another 1,300 units shipped and the third day, January 23rd saw sales peak at 2,800 units sold.  Reference should be made to the below chart for web traffic in January.
As of March 17th, 9,700 copies of "Howard Dean's Crazy Train" have been downloaded from FarmGolf, with five additional sites on the web also distributing the song.  With file sharing programs also having numerous copies of Crazy Train, the emailing of downloaded copies and other types of sharing, it is estimated that at least 30,000 copies are currently available worldwide.  The song is quite popular in Japan with over 600 downloads to that country.  There are still several downloads of this song occurring each day.  The FarmGolf Ticker keeps the current tally of total downloads.  It is expected that the song will ultimately end up 10 times platinum at 10,000 copies.
In addition, all of the "Crazy Train" related news stories that still have active links are shown on the FarmGolf HomePage.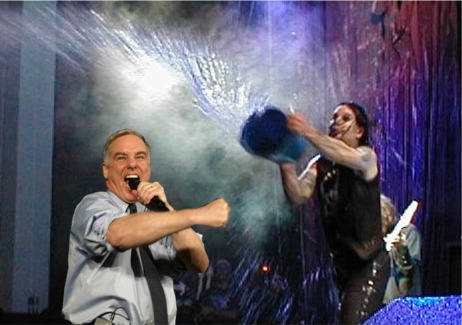 Below is an exclusive picture from the Iowa recording session.  Howard is still wound up tight near the conclusion of "Crazy Train" and is completing his patented seven (7) screams in a row.  Annoyed by the former Vermont governor's excesses, Ozzy has heard enough "Yeeaaaaaaaaaaahs" for the evening and decides to cool him down.
Stories from subscription newspapers
Village Voice
NY Times Commentary "Riding the Crazy Train" Maureen Dowd
Google search
2004 FarmGolf Masters Is On Easter Sunday, April 11th
(FGP)   Don't blame the Commissioner, as Hootie Johnson has scheduled his Masters final round on Easter Sunday at Augusta.  Accordingly, FarmGolf will also play it's tournament the same day.  Tee times can be scheduled early in the day for those who have afternoon commitments.
Traditionally this tournament has two-man and three-man teams, but the Board of Directors is considering the addition of an extra man for the higher-ranked two-man teams and a fourth shot for the lesser-ranked three-man teams.  Final rules will be established just prior to the tournament.
Visitors to FarmGolf Passes Milestone
(FGP)  Sometime this week, the 20,000th visitor will visit the main page of FarmGolf.  Music downloaders frequently bypass the HomePage by accessing music files directly, and therefore do not count as a recorded visit to FarmGolf.
However, the greatly increased traffic to FarmGolf, which currently averages over 100 MB per day, can only enhance the future growth of FarmGolf and it's music endeavors.
Course Maintenance Work
(FGP)   All six (6) greens were aerated and fertilized on Saturday, March 13th.  Additional work has been done along the borders of the course to prepare for the upcoming Masters tournament.  Fairway work is scheduled for the upcoming weekend.
Major Political Golfing Match Planned
(FGP)   To celebrate the upcoming 2004 elections, FarmGolf has invited some of the major political players to participate in team match play.  As fans of FarmGolf will remember, it's been a long time since we had top notch political competition playing the course.
The Latest FarmGolf Poem
(FGP)  The 4th poem by Nine Irony is entitled "Evan Knows".  It is the story of a young lad desiring to be the official FarmGolf Poet.  Check out all of the poems, on the Prose by Nine Irony page.
Evan Knows By Nine Irony
This poem is best sung to the song Heaven Knows by Robert Plant on the Now and Zen album.
If you were a Farm Golfer, then you would understand.
There is a time to play, and a time to have beer in hand.
Cause when the clock strikes two, and you're ready-to-tee off.
You hop on the green and off the golf cart,
Evan knows, any fool can drive.
Evan knows, hit it straight, not side-to-side.
Evan knows, what's come over me, while he was swinging irons,
I was reading Nine Irony.
He came to work on the course, and wrote a poem instead.
It was at the Christmas party he tried, but I was not impressed.
Saw the whites of his eyes and knew in his heart,
That he felt he gave his all, but it was barely a start.
Evan knows, he's not as good as me,
Evans knows, when it comes to poetry.
Evan knows, but he just won't see, he may be good with irons,
But he'll never be Nine Irony.
Nothing will show as he is taking his strokes,
But then I suppose, deep down he knows.
He really knows. But then I suppose, Evan, Evan he knows.
Evan knows, Evan knows, Evan knows, Evan knows, Evan knows.