The FARMGOLF NEWSLETTER
---
FarmGolf Masters Goes to Sudden Death Playoff,

FarmGolf.com Internet Interview Set for April 27th,

Another Water Hazard Scheduled For Construction,

FarmGolf Software Issues First Release
---
B. Smith, L. Smith & Miller Edge Halfin, C. Bowers & Richardson on 19th Hole
(FGP)   The third FarmGolf Masters was played under threatening skies the entire afternoon, but the tournament ended without a drop of rain falling.  A very large crowd attended this event, as the Masters always seems to lead the four FarmGolf majors every year in attendance.
Five teams squared off in competition, with the Halfin-Bowers-Richardson team, the Smith-Smith-Miller team and the Sublett-Sublett-Smith teams all tied at 2 under after the first round of six (6) holes.
The second round saw the leaderboard change slightly as Sublett-Sublett-Smith took a 1-stroke advantage over Smith-Smith-Miller, with Halfin-Bowers-Richardson and Smith-Green-Smith another stroke back.
The third round saw the team led by Halfin come on strong to post a 19 on the final six, while the Sublett-Sublett-Smith team faded to a 23.  The Smith-Green-Smith team bogeyed their final hole to miss the playoff by one stroke.
The final scores with scoreboard were as follows:
1st Place after  Sudden Death Playoff – Brian Smith, Larry Smith and David Miller – 6 under
2nd Place after Sudden Death Playoff – Josh Halfin, Chris Bowers and Mike Richardson – 6 under
3rd Place – David Smith, Mike Green and Kent Smith – 5 under
4th Place – Scott Sublett, Eric Sublett and Chad Smith – 4 under
5th Place – Evan Heatherly, Neil Creed and G Sparks – 3 over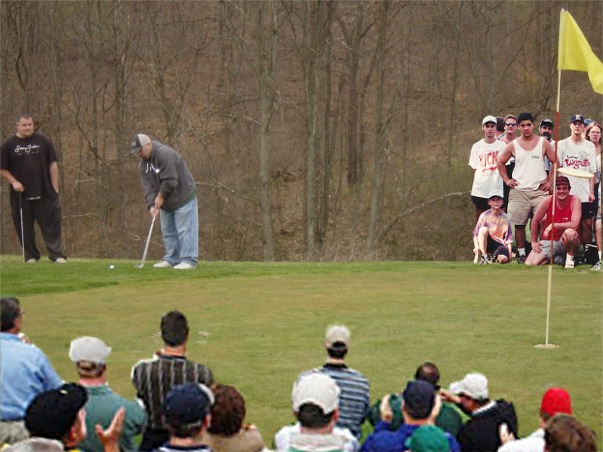 FarmGolf.com Interview Set For Next Tuesday at 7PM on "the19thholeshow.net"
(FGP)   As further proof of FarmGolf becoming "the world's fastest growing sport", an interview is scheduled on a weekly golf show broadcast on the internet for next Tuesday, April 27, 2004 in the evening from 7-8PM EDT.
The following is a copy of an email which was received at the FarmGolf.com headquarters on April 19, 2004.
Hi Mike,
My name is Ryan Ballengee and I'm the host of The 19th Hole Golf Show on BroadcastMonsters.com.  We are an Internet based sports talk radio network operating out of Washington, DC.  I came across your site recently and I think that the concept is awesome and I'd like to have you on the show to talk about FarmGolf.  You could promo the show to your players and use it as a promotional tool later.  Our show airs on Tuesdays, from 7-8pm ET, and I'd like to have you on for 15 minutes or so, next week, April 27th.  But, we can always work out another time.  I hope to hear from you.
Ryan Ballengee
The 19th Hole Golf Show
www.the19thholeshow.net
443-889-5000
Another FarmGolf Water Hazard Planned
(FGP)   To the right of Hole No. 5, the shortest hole of FarmGolf, a large in-stream pond will be constructed soon.  It is hoped that all necessary permits will soon be obtained and that the pond will be in place by the June 20th US FarmGolf Open.
Clearing work was completed by the firm of Green, Miller and Heatherly.
FarmGolf Software Begins Operations
(FGP)   In an effort to make life as easy as possible for all FarmGolfers, FarmGolf has contracted with a small German software company to make state-of-the art software.  Company CEO, Mr. Heinrich Otto, stated "that the software is being developed primarily for FarmGolfers and the friends of FarmGolfers".
The software will be comparable to that offered by major US corporations.  It is FarmGolf's intention to make an excellent product available at a minimal cost to help ease the burden on the life of it's players, who arguably play one of the most difficult sports in the world.  The first release of FarmGolf Software is Ottocad 2004, a drafting program.
Additional people throughout the area are becoming increasingly aware of the rigors of the sport of FarmGolf.  And a select few of them will be able to join the main FarmGolf tour of "the world's fastest growing sport", as well as being able to have access to our full line of software.
Two Recent FarmGolf Music Releases Are "Selling" Well
(FGP)  The two most recent releases of FarmGolf Music have reached milestones since the last newsletter.
Britney Spears and Rammstein's "Du Hast Stronger" was released on February 24th, with "sales" really taking off on April 16th.  This release should reach gold status by the end of the month.  Also, the February 13th release of John Kerry's "Dirty Deeds Done Dirt Cheap" is certified gold and will be certified platinum in the next two weeks under current downloading rates.
Web traffic to FarmGolf, which last month averaged over 100 MB per day, has tripled during the month of April.  With music and national publicity increasing rapidly in the year of 2004, it is expected that FarmGolf will again have to upgrade its server capacity.
(Note: FMRI Gold Status is 500 song downloads, Platinum Status is 1,000 song downloads) 
Next Tournament on June 20th
(FGP)   The US FarmGolf Open will be played on Sunday, June 20th using 3-man teams.  Team selection details will be determined the week prior to the tournament.  Special ticket packages will be available, and can be obtained by contacting our new FarmGolf Marketing Director.