The FARMGOLF NEWSLETTER
---
New FarmGolf Course Groundbreaking Ceremony in New York City … B. Smith-Sublett-Miller Repeat as FarmGolf PGA Champs … FarmGolf Music Library Approved by RIAA

---
Founded in the Year 2000 – The Whole Truth and Nothing But the Truth about FarmGolf
FarmGolf Expands to New York City
(FGP)   The fastest growing sport in the world is expanding to New York City as a part of the 150th Anniversary of Central Park.  A Groundbreaking Ceremony was held on July 25, 2003 at the No. 1 Green Site (see below picture).  Since FarmGolf requires only a minimal space for tee boxes and greens, we were chosen to provide an alternative recreational sport to honor the 150th year of Central Park.
Rudy Giuliani, who found out about FarmGolf in a conversation with President George Bush, spearheaded the effort with the current Mayor, Michael Bloomberg.  Several high-profile New Yorkers immediately jumped on the bandwagon in gaining approval for an extremely small amount of construction within the park boundaries.
Originally, Donald Trump wanted to be the primary investor of FarmGolf at Central Park and call it Trump FarmGolf.  But the FarmGolf Board of Directors voted no to this proposal, as it was felt that this severely degraded the sacred name of FarmGolf.  Trump remained involved in the endeavor, however, and is a 2% investor in this franchise.
An exhibition tournament is planned for this fall at the course in New York City, with some of the Top 40 FarmGolfers in the world traveling to the Big Apple to demonstrate this extremely complicated sport.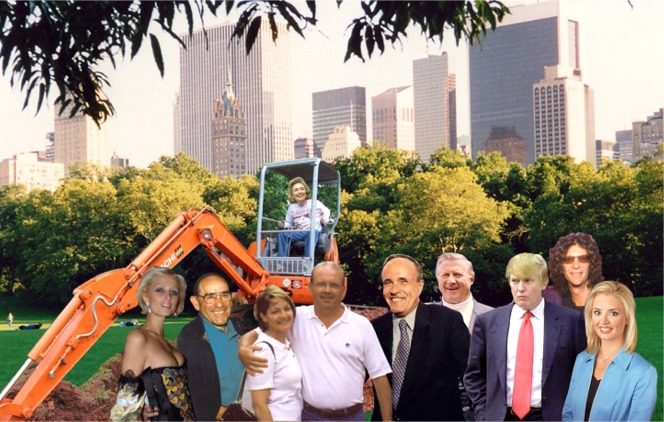 FarmGolf PGA Results of August 17, 2003
(FGP) A perfect, sunny day greeted a record golfer turnout for the 2nd FarmGolf PGA. To prove itself as the fastest growing sport in the world, there were three times as many participants in the 2003 event, as compared to the inaugural PGA in 2002.
Scores deteriorated as the day progressed, as the greens became faster and the golfers more inebriated. More FarmGolf rookies made their debut at the final major, as Morgan Jones of Elkins and Adam McLean of Philippi tried their hand at FarmGolf. Both golfers performed admirably and made the unprecedented move into the Top 40 rankings.
Final scores were as follows for the 2003 FarmGolf PGA tournament:
1st Place – Brian Smith, Scott Sublett and David Miller – 5 under
2nd Place Tie – Evan Heatherly, Mike Green and Rob Mitchell – 2 under
Bill Bowers, Stan Fitzwater and Doug Bush – 2 under
4th Place – Curtis Bodkins, Greg Tucker and Chad Smith (A) – 1 under
5th Place – Neil Creed, David Turner and Morgan Jones – Even
6th Place – Dan Papez, Dan Stalnaker and Adam McLean – 7 over
Upcoming FarmGolf Fall Tournament Will Be Played on October 19th
(FGP)   The last tournament of the year, a non-major event, will be played on Sunday, October 19th.  The two-man format will be utilized.  This is the chance for all FarmGolfers to improve their ranking for the coming winter months, as last year's brutal winter delayed action throughout the months of January and February.
RIAA President Approves FarmGolf Music Library to a Maximum of 200GB
(FGP)  Cary Sherman, President of the Recording Industry Association of America, recently traveled to the headquarters of FarmGolf to formally approve the now over 80GB FarmGolf Music Library. Two recent anonymous donors, one from South Carolina and the other from Pennsylvania, contributed over 9GB of music, enabling the library to reach 80% of its original 100GB goal.
Mr. Sherman stated at the signing ceremony, "Generally, we are fighting all of these groups trying similar projects, but we believe this to be a most worthwhile endeavor. Relieving the stresses associated with the extremely complex sport of FarmGolf can best be achieved by permitting an extremely large supply of copyrighted music to be available at the end of the golfing day. It is with great pleasure that I sign this document legalizing the FarmGolf Music Library to a maximum of 200GB".
Below is a picture of Mr. Sherman reviewing the documents and the parting gifts that FarmGolf bestowed upon him, which included a bottle of FarmGolfer Body Lotion and a copy of the Britney Spears CD – Live at the FarmGolf Building.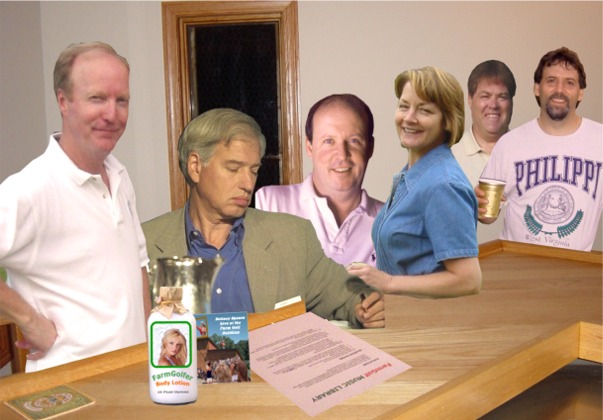 Sublett Leads in Career Majors
(FGP)   With a win in the FarmGolf PGA, Scott Sublett is now the career leader in majors won at 4 in the history of FarmGolf.  Described by some as "one of the most intense FarmGolfers in the world", he has consistently won with various golfing partners.
While his detractors may say that "David Miller has carried him in the past", he should not be underestimated in any tournament that he enters.   Now at No. 2 in the rankings, primarily due to a low maintenance rating, look for Scott to be a major player in the future of FarmGolf.
FarmGolf Adds Poet to Payroll
(FGP) Look for the new FarmGolf Poet "Nine Irony", as he adds to our culture rating.  In our ever expanding FarmGolf universe, we strive to satisfy all of our fans needs.
Ladies Tournament Results of August 3, 2003
(FGP)   The 2nd Annual Ladies Tournament ended in a tie between the teams of Linda Riffle/Mary Hannah and Faith Hannah/Jessica Hannah.  Both teams agreed it was too late to complete a sudden death finish.
Also, Kate Hannah performed a two-hole exhibition match for all attendees, before catching a return flight to Charleston.  In a final note, last year's defending champions did not return, due to one player recently developing an "Anti-FarmGolf Attitude".  She shall remain nameless, as that is only WRIGHT.