The FARMGOLF NEWSLETTER
---
FarmGolf Goes To Europe,  England, Ireland, Italy and Spain Reports
with a "Ryder Cup Special Report",  More 2006 FarmGolf.com WVU Tailgate Pics,  Fall Tournament Results,  Advertising/Marketing Director Applications Being Accepted,  Nine Irony Poem – U-Team Rap,  U-Team Techniques Revealed

---
Founded in the Year 2000 – The Whole Truth and Nothing But the Truth about FarmGolf
FarmGolf Goes To Europe
(FGP)  As part of a very aggressive off-season marketing plan, personnel of FarmGolf traveled to various points throughout Europe to "spread the gospel of FarmGolf"  Even though it has been the world's fastest growing sport for over two years, a large portion of the world is still in the dark with the overall concept.
England and Ireland Report
The FarmGolf Commissioner and FarmGolf Photographer went on a two-week working vacation beginning in London for four nights, then a six-day trip to points in Ireland and finally a few days touring England.  While in Ireland, they hooked up with new employee, Chet Walker and his wife Barbara.  Chet was recently appointed to the position of International Travel Coordinator.
During the four days in London, FarmGolf met up with both the Queen of England at a local pub and Prince Charles at Kensington Palace.  Charles was vaguely familiar with the sport of FarmGolf by way of the internet, and was contemplating a two-hole course.
It was initially suggested to Charles that he name the holes after his wives, with the Diana Hole being No. 1 and the Camilla Hole being No. 2.  However, after a lengthy discussion it was concluded that this would not be a good idea, as everyone would likely want to play Hole No. 1 again and forget about Hole No. 2.  Charles stated that he was not authorized to formally sign papers regarding course construction, and that we would have to meet his mother that evening.
So it was arranged for the Commissioner and Photographer to meet the Queen at a nearby pub for a formal discussion of FarmGolf.  During the meeting over several pints of Guinness and a few shots of Beefeater, all construction and warranty issues were resolved.  All of the papers were properly signed and sealed by Her Royal Majesty and The Royal FarmGolf Course at Kensington will begin construction in the spring of 2007.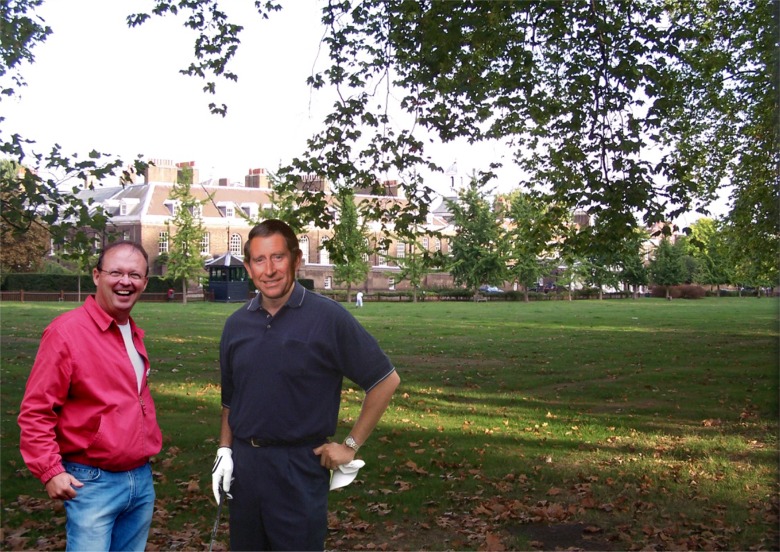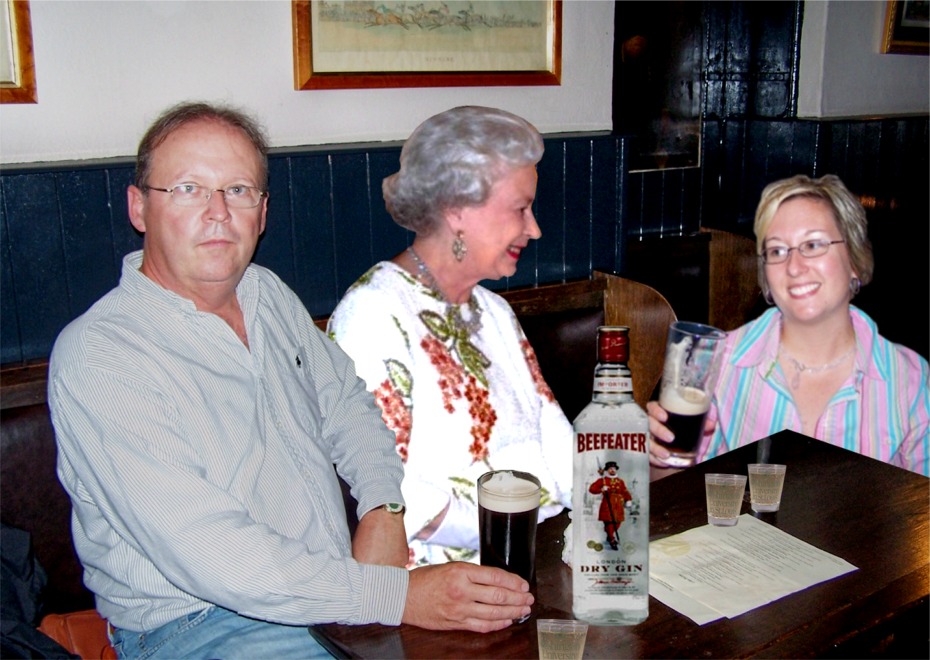 After our meeting with the queen, it was off to Dublin to catch up with new FarmGolf employee, Chet Walker.  Ryder Cup officials had reserved a spot for FarmGolfers to view the final practice round on Thursday.  Below are some pictures from the practice round at the K Club, approximately 30 miles west of Dublin.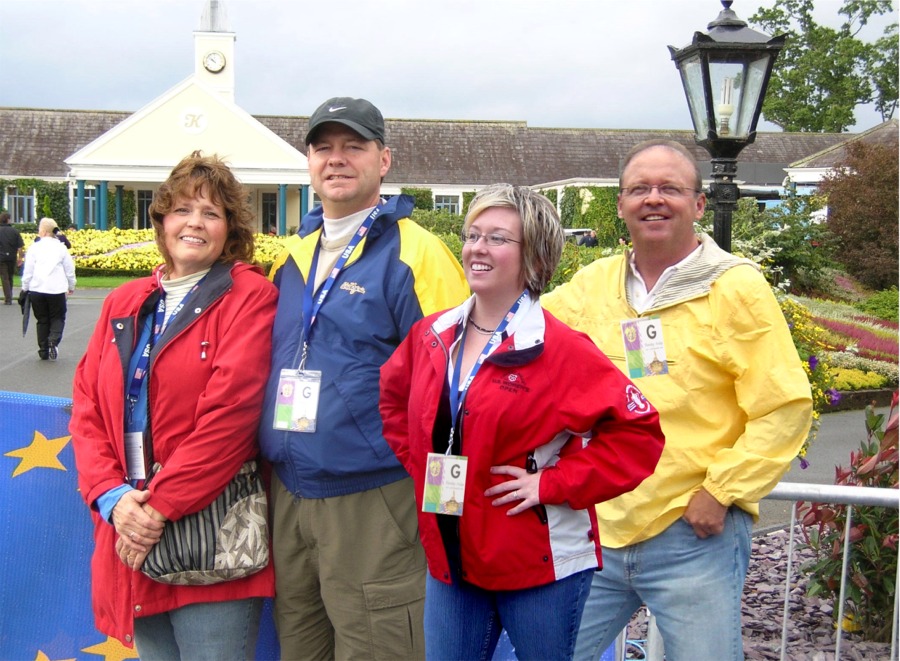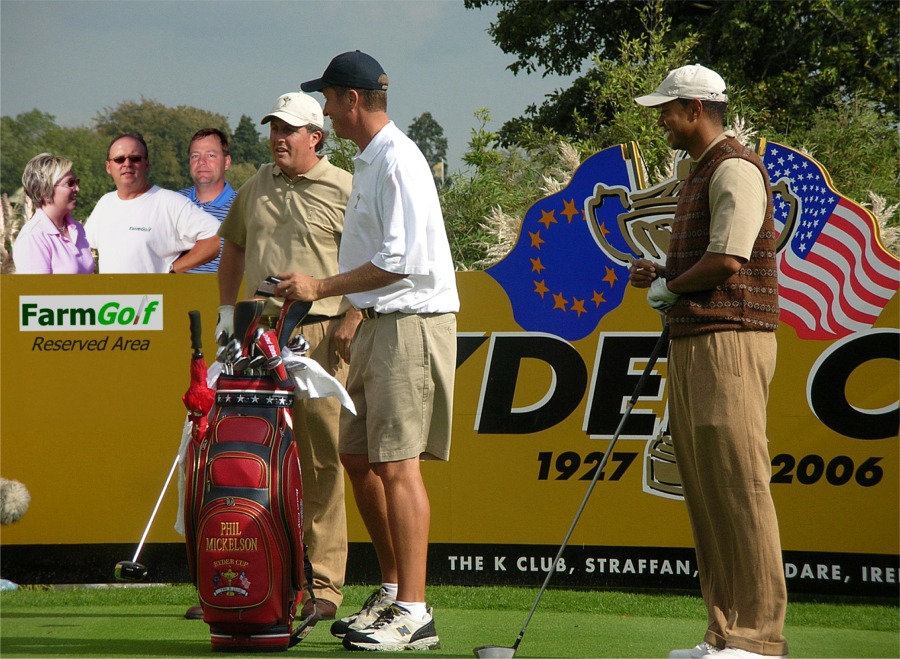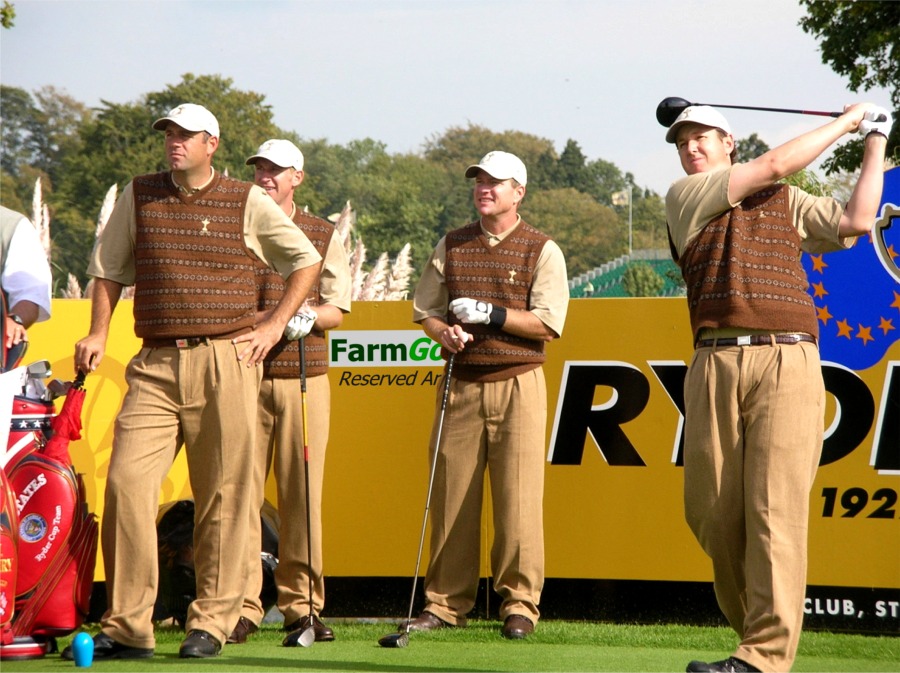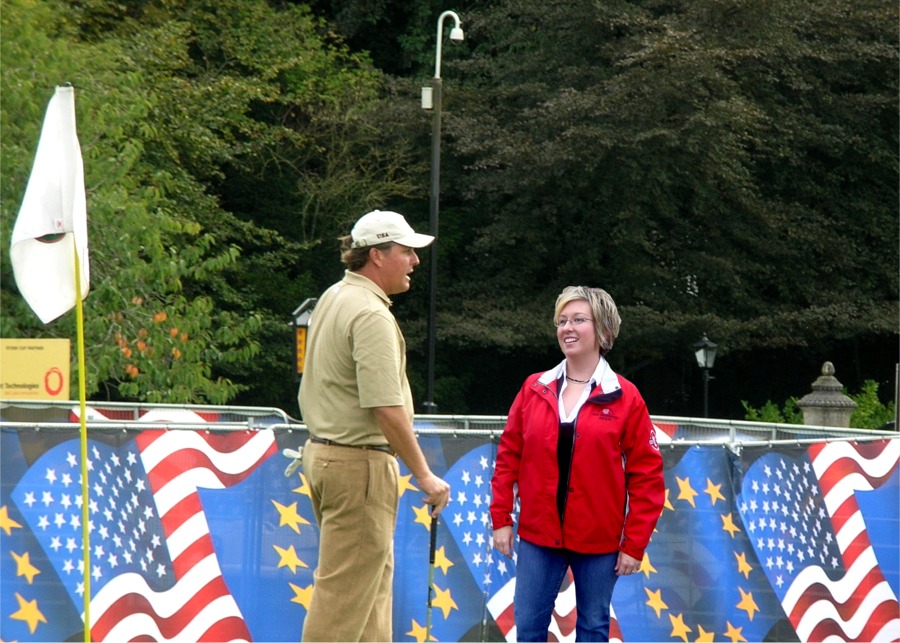 Italy Report
FarmGolf's Legal Beverages Consultant, John Mosesso, traveled to Italy in mid-September working the corridor from Venice to Castel del Giudice.  As there are currently no top PGA golfers or FarmGolfers in the Top 50 Rankings from Italy, this was thought to be a fertile recruiting area for some new international golfers and/or a potential course.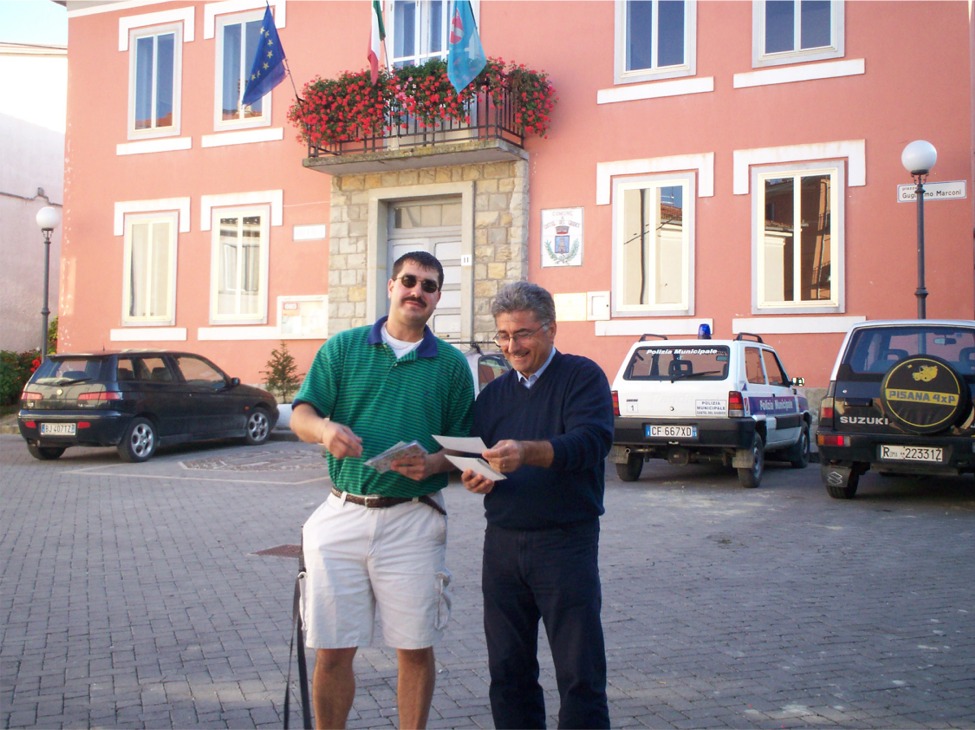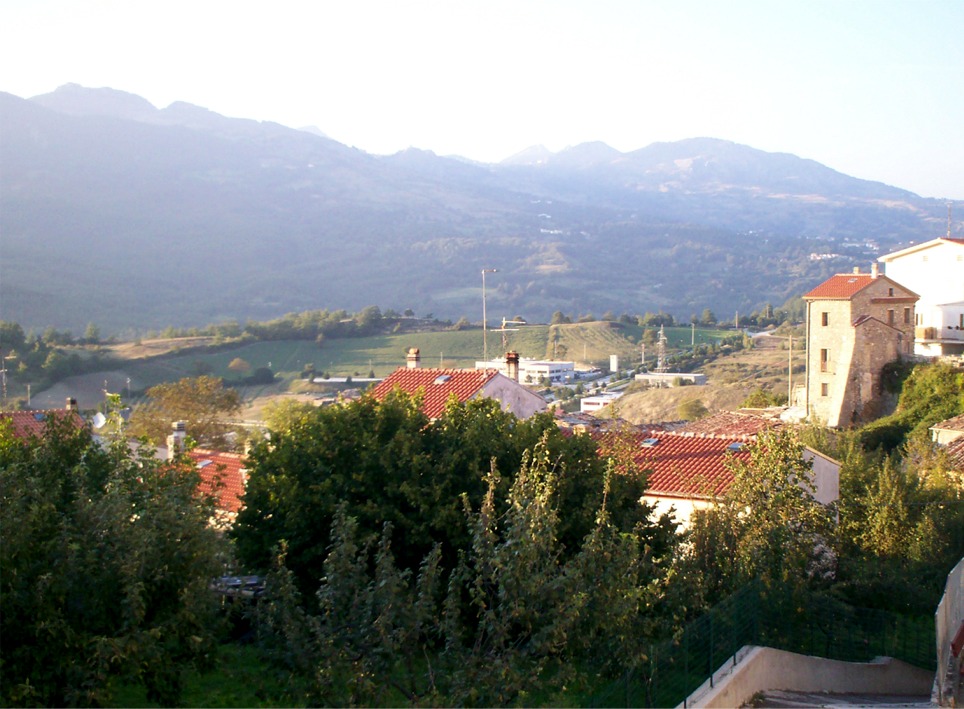 Spain Report
The Assistant Club Pro of FarmGolf, Bill Bowers, and his family traveled in early October to Madrid and Marbella, Spain.  The remainder of the family, it should be noted, paid their own travel expenses.
While in Marbella, located on the Mediterranean, Bill met with Sergio Garcia.  Garcia had made some comments as to an interest in FarmGolf to Chet Walker, after the final round of the Ryder Cup tournament.  So, the Commissioner arranged a meeting between Bowers and Garcia at Marbella.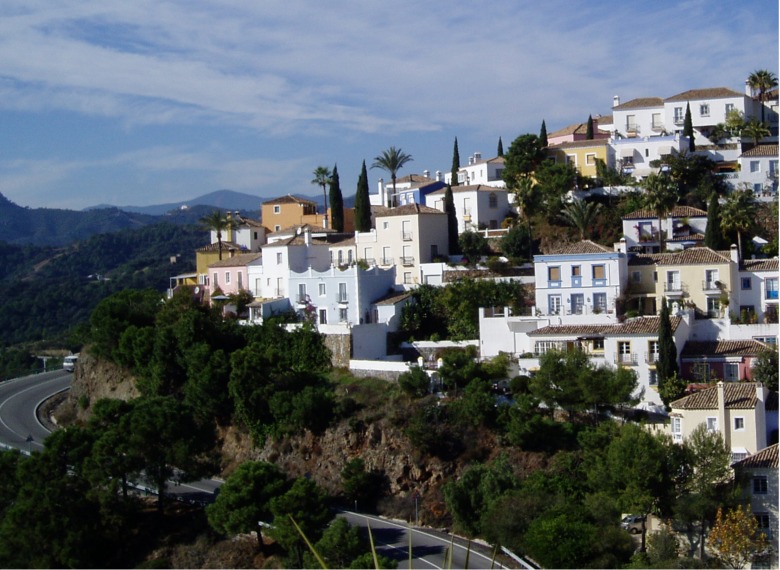 Fall Tournament Results
(FGP)   The fall tournament was held on Sunday, October 15, 2006.  Two 3-man teams played, while a significant number of spectators were present.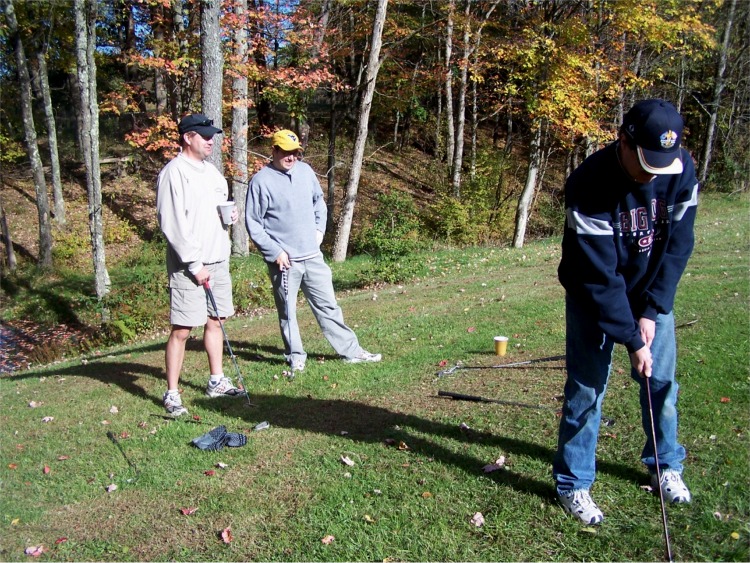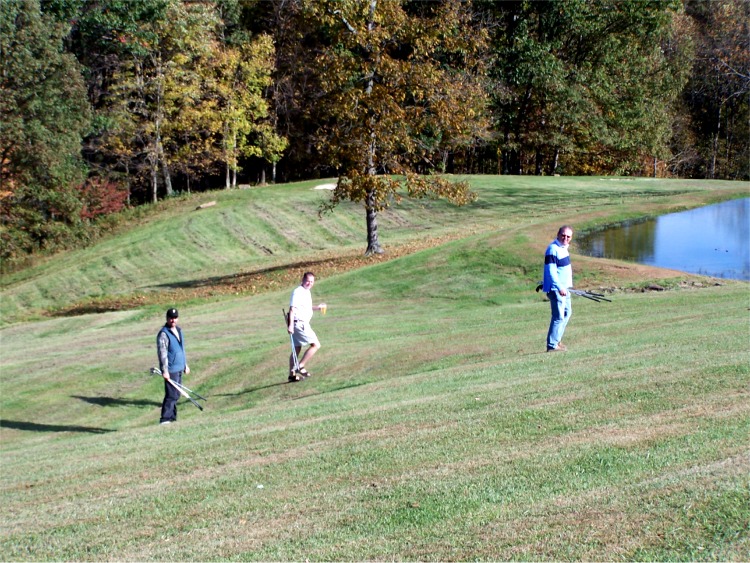 Fall Tournament Scoreboard


Advertising/Marketing Director Applications Being Taken
(FGP)   While giving Paris Hilton, our Director of Advertising/Marketing Director, the benefit of the doubt for several months, FarmGolf has decided that it is time to move on and employee an individual with dedication to her position.  As of November 1, 2006, FarmGolf stripped Ms. Hilton of her FarmGolf title and is currently advertising the position.
Applications will be taken up to the time of the annual FarmGolf banquet on December 17, 2006.  During the business meeting and awards ceremony, the new employee shall be hired, and possibly introduced to the media.
WVU Tailgate Pictures for the 2006 Season
(FGP)   The tailgate pictures have been updated through the first four (4) games of the 2006 football season, and will be updated as the season progresses.
All pictures from the 2006 football season for the West Virginia University Mountaineers can be accessed after the season.
U-Team Rap  By Nine Irony
Say, you gotta' go pee-pee.
But you don't have a wee-wee.
And the only way to do it,
Is to stand up while you use it.
And you realy gotta' go,
But you just don't know,
How to use this vessel,
Without making a mess, OH!
You can join the U-Team.
Use it while the crowd screams.
Pull up your dress, clear to your chest.
Or down your shorts, clear to the floor.
Then let it fly and wait…. till….it….dries.
Yeah, wait…..till…..it …..dries.
You can back it in.
Or a front-hip-thrust will win.
Some try to spread it wide,
With a leg up the side.
No matter how you do it,
You feel better once you've used it.
And everyone will know,
Cause your shirt will tell them so, OH!
You can join the U-Team.
Use it while the crowd screams.
Pull up your dress, clear to your chest.
Or down your shorts, clear to the floor.
Then let it fly and wait…. till….it….dries.
Yeah, wait…..till…..it …..dries.
Word, to your Mother!
U-Team Techniques Revealed
(FGP)   The FarmGolf U-Team, after numerous inquiries over the last four years, has decided to reveal some of the techniques utilized in their work.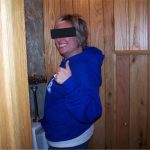 Team members have chosen to remain anonymous, and site visitors can only make a wild guess as to their actual identities.