The FARMGOLF NEWSLETTER
---
US FarmGolf Open Winners – Halfin, Fitzwater and Kelly
Full-time Photographer Hired
British FarmGolf Open Won by Bowers, Bowers and Richardson
World's Slowest FarmGolf Team Is Born
FarmGolf Makes Rule Changes
FarmGolf Poet Is On Strike
Women's Tournament Scheduled for August 20th
---
Founded in the Year 2000 – The Whole Truth and Nothing But the Truth about FarmGolf
US FarmGolf Open Won on Late Surge by Josh Halfin, Stan Fitzwater and Rookie Bobby Kelly
(FGP)  A hot, sunny day was the norm for the 4th US FarmGolf Open.  Five teams played during the day, with David Turner coming off the disabled list, and being allotted to one of the teams as a 4th man.  Bill Bowers, the Masters Winner was a no-show, as he was in Switzerland promoting the sport of FarmGolf. Also, John Mosesso played for the first time in a while with Evan Heatherly and newcomer, John Heatherly.
The first round saw the "timely play" of Brian Smith, Chad Smith and Neil Creed go out to a 2-shot lead after six holes.  The second round was not as kind to the first round leaders, as they slid back to third place with a round of only 1-under.
The ever talkative Creed was ready for a playoff after their team completed the final round and finished at an 8-under 58.  Tied for the lead was Larry Smith, Mike Green and Lynn Phillips, with two teams still on the course.  After the recently appointed FarmGolf Photographer, Tiffani Swanson had told Creed to "go over there and sit down", things calmed down and the other teams finished their rounds of 18 holes.
No playoff was necessary as the team of Josh Halfin, Stan Fitzwater and newcomer Bobby Kelly tied the 6-hole record of at 6-under par during the final round to finish in 1st place by one stroke at 57 or 9-under.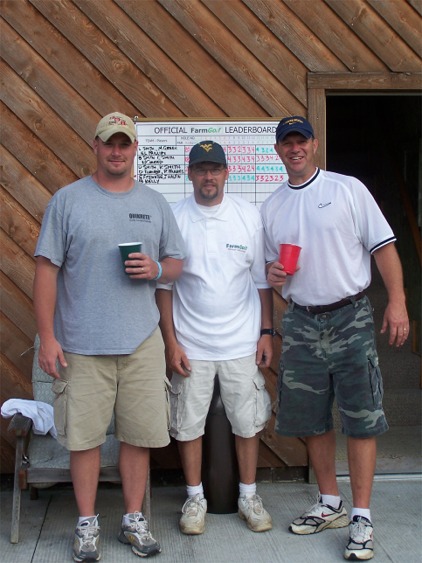 2005 US FarmGolf Open Scoreboard


2005 US FarmGolf Open Gallery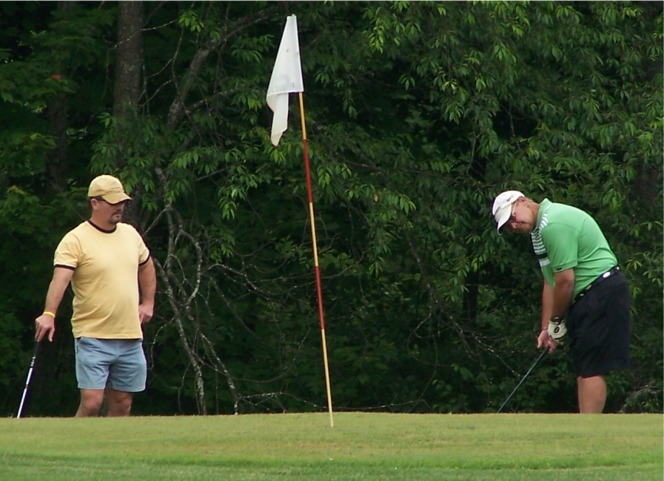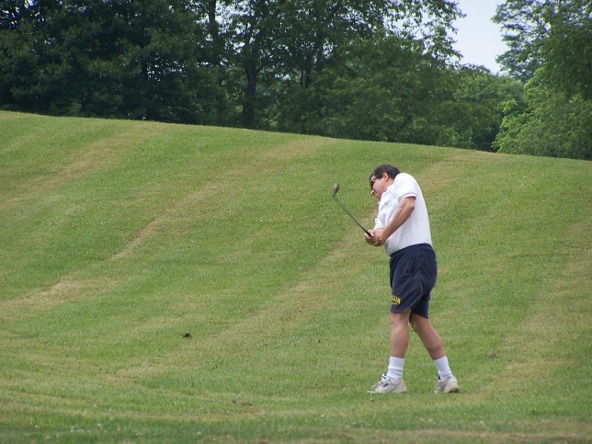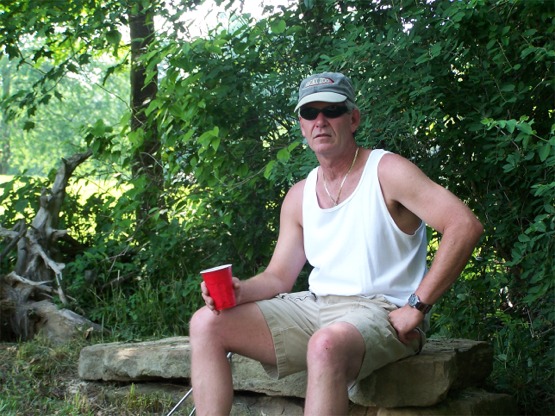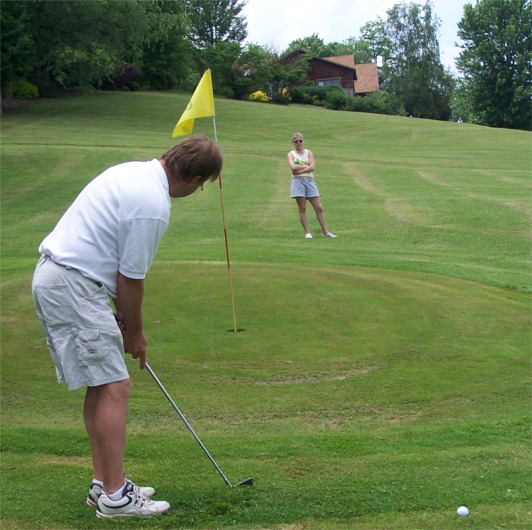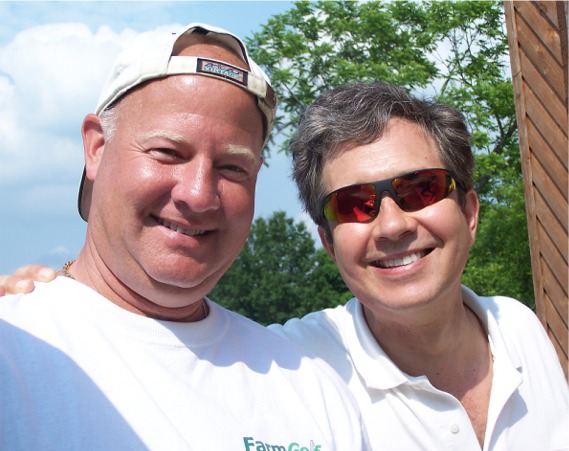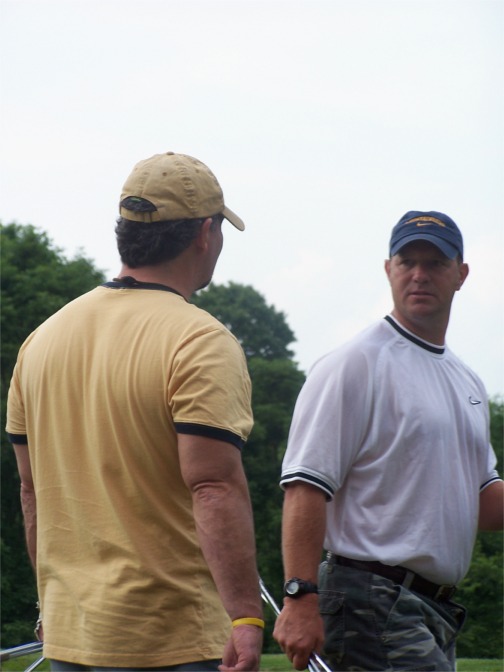 Full-time Photographer Hired / Sent to Las Vegas Photography Convention
(FGP)   FarmGolf, just prior to the US FarmGolf Open, officially hired a full-time photographer.  Formerly, both Tiffani Swanson and Maria Voreh were freelance photographers, who worked the 2005 FarmGolf Masters.  After much discussion, it was decided by the FarmGolf Board of Directors to hire one of them full-time, so as not to be caught without a photographer at one of the major tournaments.
After three rounds of voting, Tiffani Swanson was hired and was sent by FarmGolf to the recent golf photography convention in Las Vegas, Nevada.  The Commissioner decided to also go to Las Vegas and investigate the feasibility of setting up a course on the Las Vegas Strip for the world's fastest growing sport.
A vacant lot between the Aladdin and MGM Grand was found to be the site with the most potential.  FarmGolf is currently negotiating a satisfactory price for this lot.  Stay tuned for additional details on this project.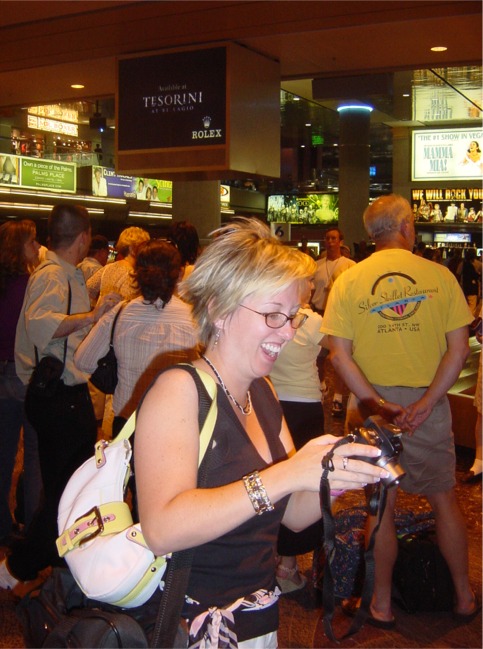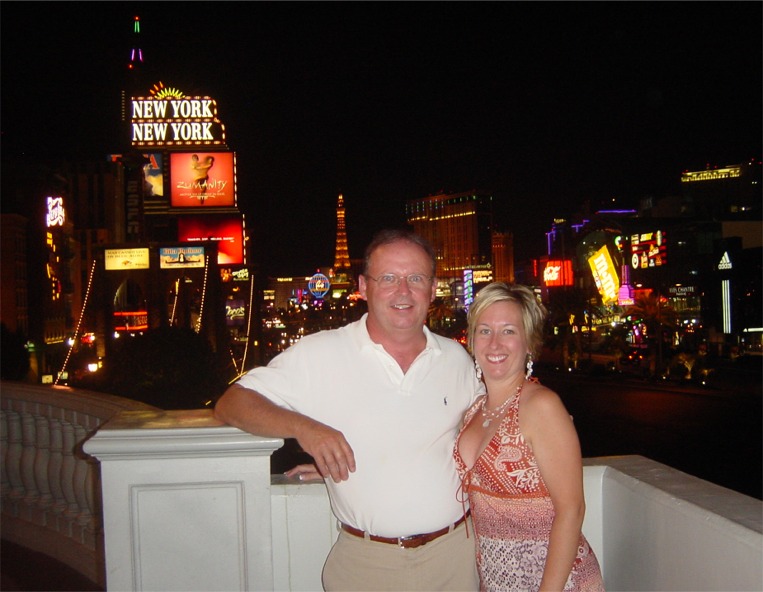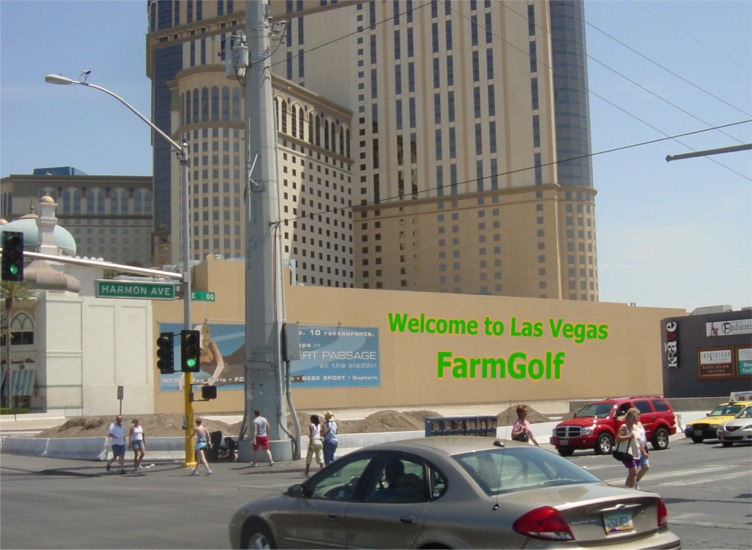 British FarmGolf Open Report
Bowers, Bowers and Richardson Win / World's Slowest FarmGolf Team Is Born
(FGP)  An overcast day greeted the 4th British FarmGolf Open.  Five teams played today, with two rookies making a debut, J. R. Fitzwater and John Fallecker.  A broken club by the winning team, caught on camera below, and ultimately resulted in the formation of FarmGolf Rule No. 8, which states "that if a club is broken during a 6-hole round, the golfer will play with the remaining two clubs until the beginning of the next 6-hole round.  No sharing of clubs will occur before the current round is completed."  Read all of FarmGolf's Rules here.
After completing their 18-hole round in just under 6 hours, the team of Brian Smith, Chad Smith and Neil Creed, assisted by the "Farm Honey" and celebrity guest team cheerleader Whitney Houston, FarmGolf 's Board of Directors installed FarmGolf Rule No. 9, which states "Teams will be allowed 4-hours to complete 18 holes, with allowances only made for rain delays, with all rounds completed by 6PM Eastern time".
Rule No. 9 had to be implemented for the following reasons:
1) The upcoming satellite TV contract with the Golf Channel stipulates that play must be completed by 6PM Eastern time.
2) Numerous complaints from other teams.
3) Complaints from the gallery, including continuous booing.
The 3-team tie resulted in the new playoff hole using existing tee boxes with different greens.  The first playoff hole used was the No. 1 Tee Box for the No. 5 Green, with Chris Bowers chipping in the second shot for the victory.  A digital shot of the winning shot is shown in one of the below pictures.
2005 British FarmGolf Open Scoreboard


2005 British FarmGolf Open Gallery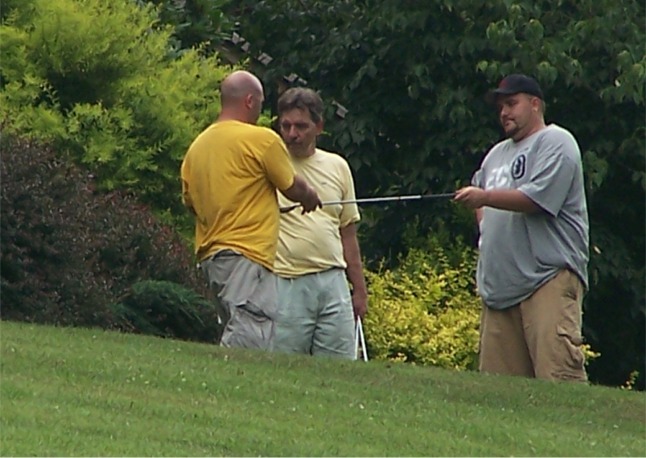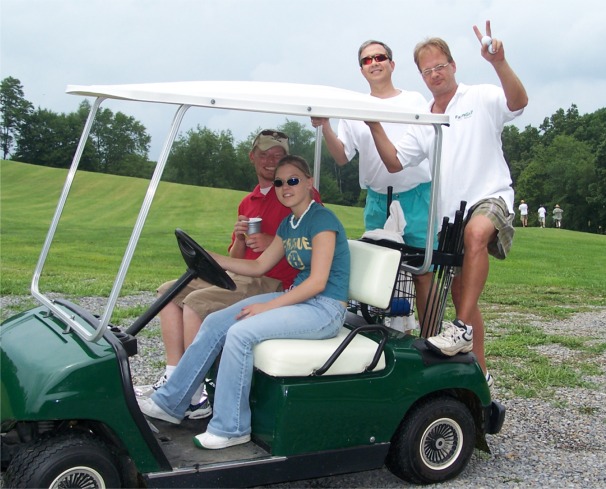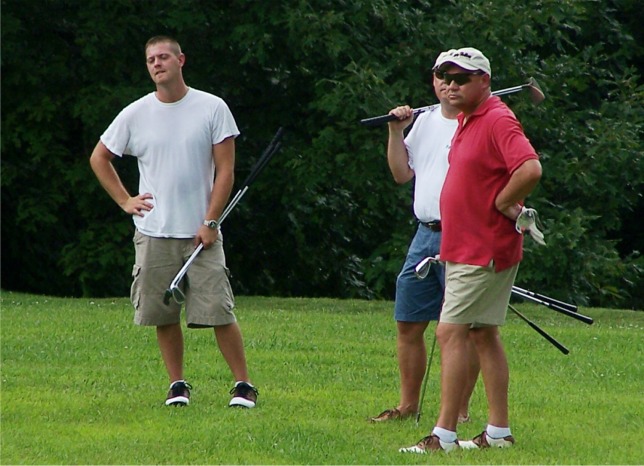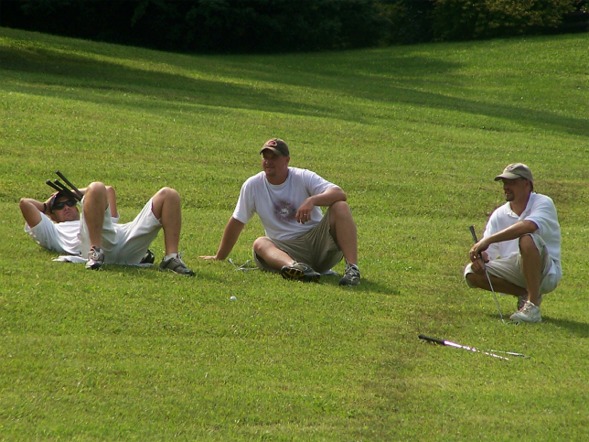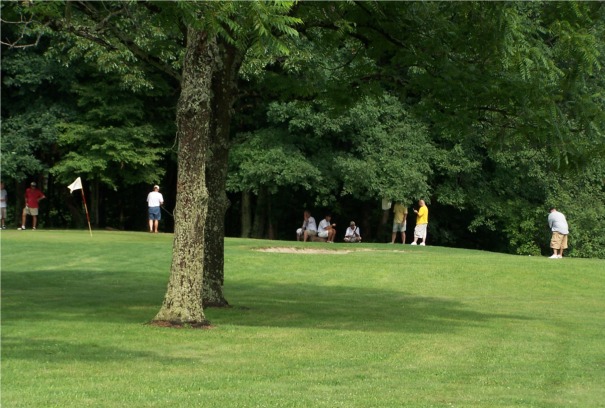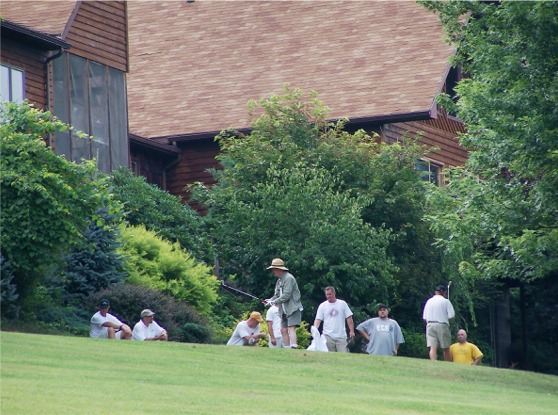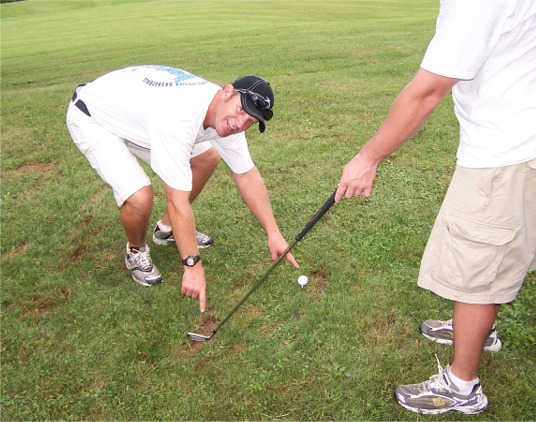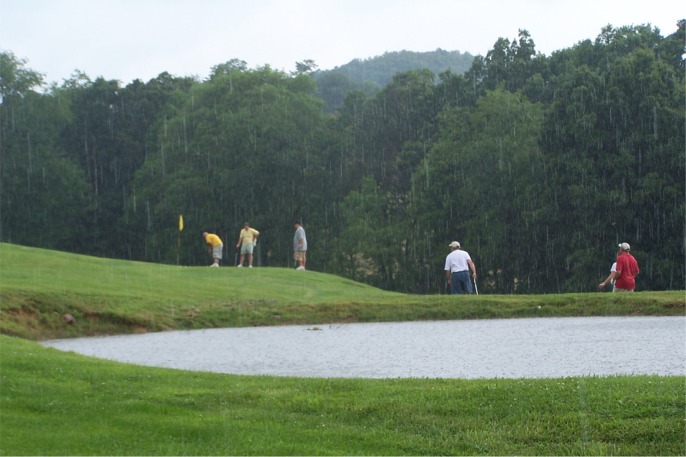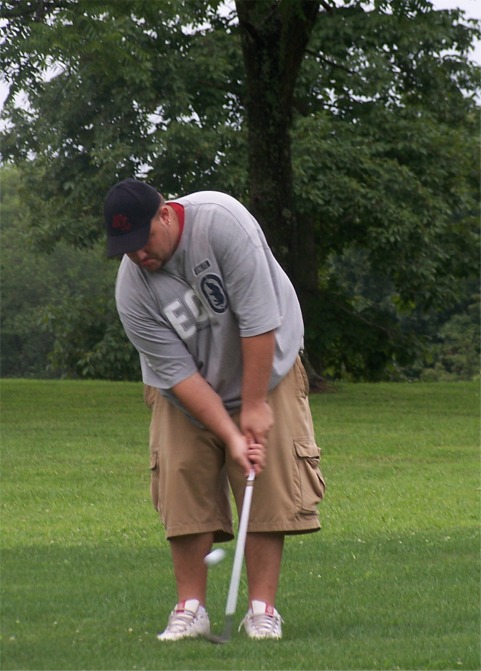 The Unknown Poem By Nine Irony
………………… FarmGolf ………………
……………………………………..
………………………………………………………………
……………………………………..
……………………………………..
………………………………………………
………….. FarmGolf …………………..
……………………………………..
Final Major Tournament on Sunday, August 14, 2005
Women's Tournament on Saturday, August 20, 2005
(FGP)    The fourth and final major tournament of the 2005 season will be the FarmGolf PGA, scheduled for Sunday, August 14th.  Three man teams will be picked, with a 4-hour time limit and finishing time of 6PM EDT.  Variances will be granted only for a rain delay.  Tee times begin at 8AM Sunday for those who can't play in the afternoon time slot.
The first women's tournament of 2005 will be held on August 20th, beginning at 1:30 PM.  Teams of either 2 or 3 will be selected with the total number of holes determined at that time.  All participants should bring a covered dish item for the FarmGolf buffet.