ISSUE NO.3

It's been a busy three months, since we last talked. As most of you know, my movie House of Wax is out, my Paris Hilton Perfume is doing well and last and least ……. I've gotten engaged within the past month to Paris Latsis from Greece!
Paris2 is the word of the day. Paris, my boyfriend, is not yet a fan of the world's fastest growing sport. But give him some time and he'll come around. He's an Ozzy fan, and did say he'd like to met him and Howard Dean sometime if they ever work together again.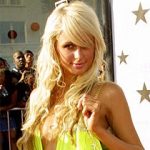 First up, the next FarmGolf major is only six days away. According to the weatherman, the June 19th US FarmGolf Open is going to be really hot!
See you again sometime in the fall. Love, Paris
---
HOW TO MEET (And Maybe Pick-up) A FARMGOLFER

by

PARIS  
As I told you last time, this report would tell you where the FarmGolfers hang out and give you some pointers on meeting them, getting autographs, and if you're really lucky and interested, actually picking one up and taking him home. If anyone knows a thing or two about that, it's certainly me!
Anyway, the most common after-hours place to find them is at Lil' Moe's in Philippi, which is less than 10 miles from the famous FarmGolf course. The place opens at 5PM Tuesday through Saturday, 8PM on Mondays and is closed on Sunday. The best time to go is usually sometime later in the evening, you can often spot one of them at the bar or at a table with a group of women.
Any way, study these pointers before you arrive:
1. Dress casual, even in jeans or shorts in the summer, as FarmGolfers seldom ever are known to dress really flashy and prefer their women that way also.
2. Study up on the facts of FarmGolf, records, rankings, celebrities who've played FarmGolf, etc. at the farmgolf.com website.
3. Ask one of the bartenders if there are any FarmGolfers in the building. Sarah and Samantha know most of these guys and can point them out.
4. Strike up a conversation with someone in the bar and toss out a phrase such as "did you know that FarmGolf was the world's fastest growing sport" or "I just love that Howard Dean and Ozzy song".
My fiancé Paris's cousin, Madonna, from Greece tried the above method recently and we secretly had the FarmGolf photographer, Tiffani Swanson, record her efforts.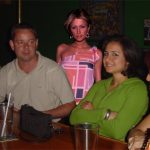 Here's a picture of her with the current No. 4 ranked FarmGolfer, Evan Heatherly. She had just commented on the Howard and Ozzy song to someone else in the bar, and Evan immediately struck up a conversation. While no pick-up occurred, who knows what might happen next time.
Josh Halfin, the No. 6 FarmGolfer, surprised me with a playful pinch while Jedd Schola, No. 17, talks with some of the locals.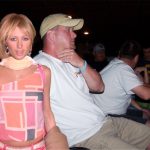 Ask either of the bartenders on duty where the hot FarmGolfers are. I can't believe that they're all so hot!!
And finally, if you have no luck at meeting one of the FarmGolfers at Lil' Moe's, my last bit of advice would be to drive by the course slowly, toot the car horn and flash them some skin while yelling something suggestive.
Who knows, if you go down the road and turn around, one of them may be waiting for you at the course entrance a bit later!
---
FARMGOLF'S CELEBRITY PARKING GARAGE

by

PARIS
Something that I've been complaining about for quite a while was where to park my car when I came to FarmGolf. The garage at the FarmGolf building had never been finished ….. until now. Finally, my nagging has paid off.
The garage consists of 2-3 parking slots and are reserved for celebrities only.
The wall on the clubhouse side was completed with sponge painting in a really unique pattern. The back wall was done in red oak and the roadside wall was painted in a light shade.
Here's the Bentley backed in, so I'm ready to tear out of the garage at the end of my latest visit to FarmGolf.