The FARMGOLF NEWSLETTER
---
June 9th Ladies Tournament Results
U. S. FarmGolf Open Summary
FarmGolf Music Report

---
June 9th Ladies Tournament Results
(FGP)  The first ever FarmGolf Ladies Tournament was held on the sunny afternoon of  June 9, 2002.  Play started around 2:30PM and concluded a couple of hours later with the team Nancy Miller, Helen Smith and Ruth Wright victorious by a margin of four (4) strokes.  The second place team of Kate Hannah, Faith Hannah and Mary Hannah had their first FarmGolf tournament experience this day and kept it close until the end.
Helen Smith hit a long, accurate second shot on the par 5, No. 4 Hole which, in turn, eventually led to the pick up of two strokes on the Hannah team.  This shot was deemed to be the turning point of the Ladies Tournament by FarmGolf reporter, David Miller.
Below, the top two finishing teams are pictured sitting in the FarmGolf Shuttle Vehicle.  In the left picture from left to right are the 1st Place Winners:  Helen Smith, Ruth Wright and Nancy Miller.  In the right picture are:  Kate Hannah, Mary Hannah and Faith Hannah, holding the 2nd Place Trophy.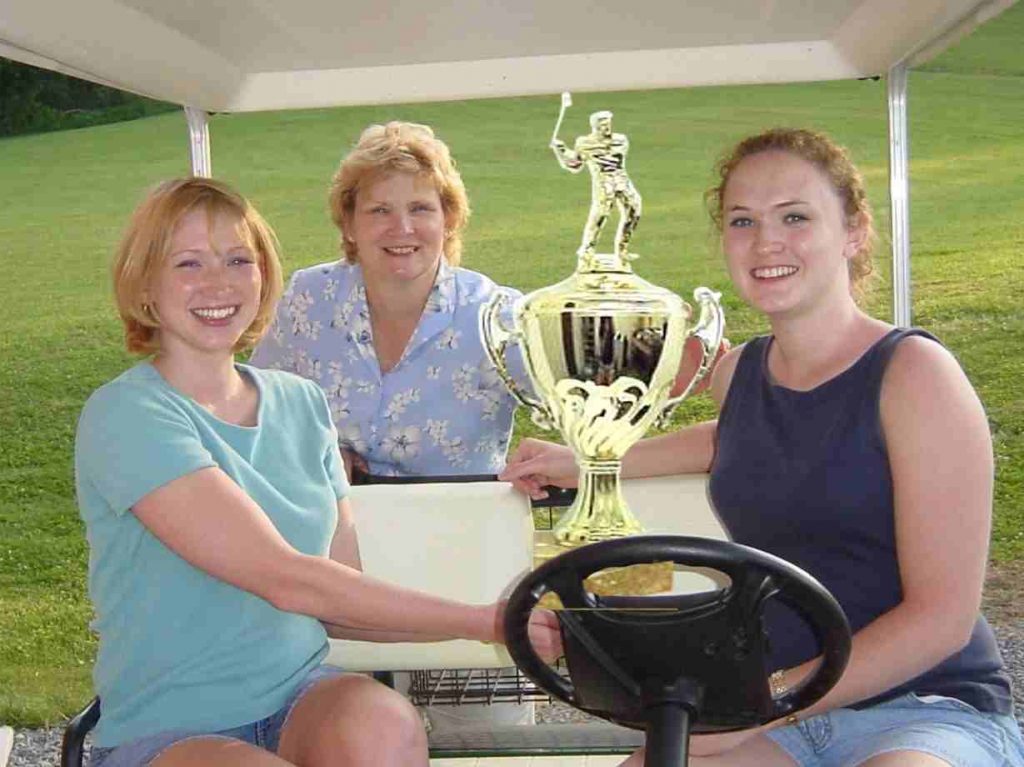 June 16th US FarmGolf Open Tournament Summary
(FGP)   Five teams squared off in 2-Man Play with 18 holes played in "hockey format" FarmGolf.  There were two beer intermissions during play, with the previous course record of Evan Heatherly and John Mosesso broken by two strokes.  Smith and Green shot 4-under for the first round, birding the 1st, 4th, 5th and 6th holes.  The eventual winners led by two shots after the first round and went on to a 4-shot victory over the team of Scott Sublett and Jeff Paugh.
2-Man Team Play – 1st Place – David Smith and Mike Green – 9 under   2nd Place – Scott Sublett and Jeff Paugh – 5 under   3rd Place – Brian Smith and Neil Creed – 3 under  4th Place Tie – Rob Mitchell and David Miller – 1 over   R. L. Mitchell, Jr. and David Turner – 1 over
The Singles Tournament saw another course record broken by Brian Smith who recorded the first individual score ever below 20 on the FarmGolf course.  Previously, Bill Bowers and David Smith had recorded several single rounds of 20, the most recent by Bowers in a mini-showdown with Smith on June 13, 2002.  Second place in the tournament went to Jeff Paugh who shot even par.
Singles Play – 1st Place – Brian Smith; 2nd Place – Jeff Paugh; 3rd Place – Neil Creed
FarmGolfers No. 1 and No. 2 Meet in Thursday Preliminary Golfing Event
(FGP)   A Thursday afternoon showdown, just three days prior to the US FarmGolf Open, between No. 1 Bill Bowers and  No. 2 David Smith occurred with Bowers winning by two shots on the final hole.  Bowers, who early that morning received his weekend instructions in the mail, arrived to play a short round of just 6 holes, so as not to hear any major grief directed his way during the Sunday tournament.
At a meeting later that evening, the FarmGolf Board of Directors voted unanimously to hold an 18-hole showdown between these two players before the next major tournament, which is the British FarmGolf Open at St. Michaels on July 21, 2002.
The First Studio CD Release of the FarmGolf Music Company Is Slated for June 22nd
(FGP)   Leave it to FarmGolf to set the pace for the latest style of music.  In our first studio recording, we have teamed Britney Spears with the hard rock sound of Germany's Rammstein.  Four (4) tracks were recently recorded in our studios, with three of the tracks being released on the upcoming album entitled Britney Spears with Rammstein.   Eight additional solo Britney tracks are included with a new version of Anticipating mixed to go with those World Famous Clubhouse Dancers.  Excerpts from some of the tracks will be downloadable from the website next week.
This release is expected to go platinum before the next major tournament.  Also, look for an upcoming audio interview with Britney, detailing why she likes FarmGolf and all of the FarmGolfers so well.
Only Four and 1/2 Weeks to the Next Major, the British FarmGolf Open at St. Michaels – July 21st