FarmGolf Hall of Fame
Member No. 1 – David L. Smith
As preparations for the 2010 FarmGolf season were being made, Club Pro David L. Smith passed away on February 28, 2010.  He was a major contributor to the development of our sport for the initial ten years from the turn of the century.
Over his career, David was a winner at six (6) FarmGolf Majors from 2002 to 2007, including 2 US FarmGolf Opens, 3 British FarmGolf Opens and 1 FarmGolf PGA.
Other career highlights included being a member of the Clubhouse Dancers, assisting in the Britney Spears Interview at the Clubhouse, going to Augusta for a demonstration round of FarmGolf, and participating in the first media report on FarmGolf by WDTV in 2008, where he played Hole No. 1 against Sports Reporter, Joe Brocato.
David also held the position of FarmGolf Czar and looked after Teresa Kerry, who passed out at the Bush-Kerry Celebrity Golf Challenge.
---
Member No. 2 – Miles Runner
Miles began his FarmGolf career in 2005, with his first major win coming at the 2006 FarmGolf Masters.  His career included a total of five (5) FarmGolf Major Wins from 2006 through 2008, including 2 FarmGolf Masters, 1 US FarmGolf Open and 2 FarmGolf PGA wins.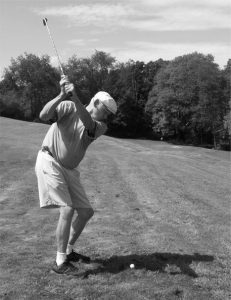 It was amazing that Miles was able to win so many majors in the short time period that he participated in the World's Fastest Growing Sport.
Miles was FarmGolf's first switch putter, putting right handed on most occasions but never missed when putting from the left side.  Miles participated in the Augusta demonstration round of FarmGolf in 2006.
Miles held the position of Weather Prognosticator.
FarmGolf sent a large contingent to the celebration of Miles's life, held at Halliehurst on the campus of D&E College on May 22, 2010.
---
Member No. 3 – David E. Miller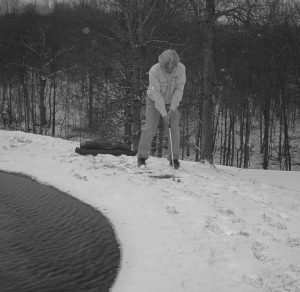 The year 2011 brought another say day for FarmGolf.  On July 19, 2011, Our Greens Designer and Course Construction Consultant, David Miller, passed away.
The following week, David was voted in as the third member of the FarmGolf Hall of Fame. David joined David Smith and Miles Runner.
David's career included four (4) FarmGolf Major Wins from 2002 through 2008, including 1 FarmGolf Masters, 2 British FarmGolf Opens and 1 FarmGolf PGA tournament win.
David was instrumental in the development of the six greens of FarmGolf, specifying the proper materials and chemicals to produce a superb golf course.  Since his passing, the FarmGolf Greens have not been quite as high quality in the subsequent years of competition.
He was consulted in major equipment purchases such as the Jacobsen Greens Mower.
He will always be remembered for his tee shots from No. 1 Tee … and the resulting splash sound.
---
Footnote:  FarmGolfer Obituaries
---
---