The FARMGOLF NEWSLETTER
---
US FarmGolf Open & British FarmGolf Open Results,

FarmGolf Apparel Now Available,

July, 2004 Ladies Tournament Summary,

2nd Annual Celebrity Golf Challenge Set for August
---
US FarmGolf Open Won by Creed, L. Smith and Sublett
(FGP)   The new and exclusive FarmGolf Tournament Scoreboard makes it's debut in this newsletter.  The chart summary of golfing results allows all of FarmGolf's fans to breakdown and analyze recent action on the course of the the world's fastest growing sport. 
The table below lists the team players, results of each round and a summary of each hole played.  Also, to the far right is the final team score relative to the Par of 66 for 18 holes at the FarmGolf Course, and the resulting team finish position.
The team of Heatherly-Sparks-Phares went out to an early lead in the Open and were 5-under after 7 holes, then in a 3-way tie after two rounds, but eventually faded in the last round.  There were rumors going around the course that this deterioration of play was possibly due to excessive beverage consumption.
The longtime team of M. Green and D. Smith, two-time winners of the US FarmGolf Open, put on a pitiful golfing display for newcomer and teammate, Greg Sparks, and placed 6th in the final results.  Whispers were heard later in the evening at the Clubhouse that maybe Green and Smith should "get on with their life's work".
Steady play by the team of N. Creed, L. Smith and S. Sublett held off the early challenge of the Bodkins-Fitzwater-Halfin team and the final round of the Smith-Smith-Miller team.  Both of the challengers ended tied for second and decided to fight it out for second place in FarmGolf's first playoff under the lights.  Below is a picture of action of the first and final playoff hole.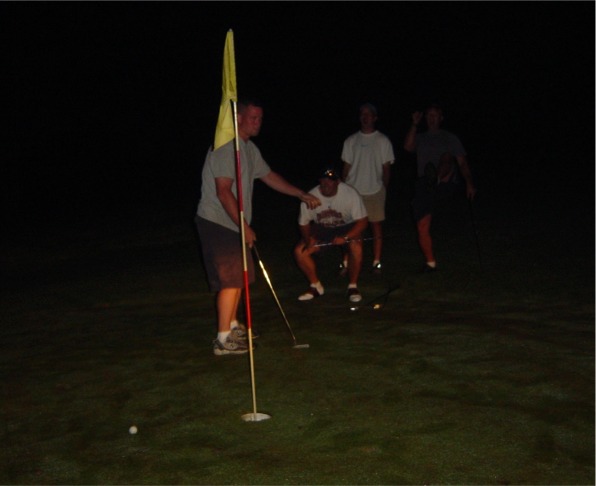 2004 US FarmGolf Open Scoreboard

2004 US FarmGolf Open Gallery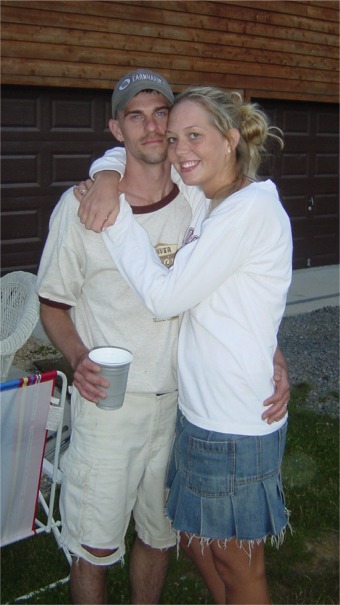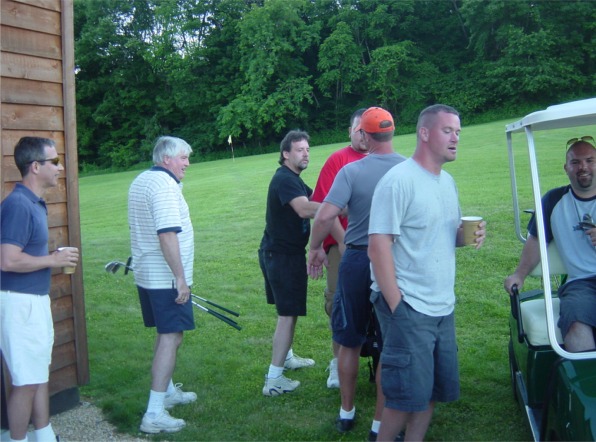 FarmGolf Apparel Goes Worldwide
(FGP)   A deal is nearly completed with PayPal to sell genuine FarmGolf tee-shirts all over the world.  The price of the shirts featuring a 4-color logo will be $14.00 plus shipping.  Shirts will be available via a link on the FarmGolf HomePage.  Sales are expected to be brisk for these tee shirts, which feature the logo of the the world's fastest growing sport.
FarmGolf Aerial Photography
(FGP)  Aerial Photographer Eric McGuire made a test flight over the historic FarmGolf Course on the day of this year's US FarmGolf Open.  Figuring out the best and most scenic angles on the course, he returned and took several photos on June 23, 2004.
Ladies Tournament of July 10, 2004 Summary
(FGP)   A Saturday Ladies Tournament was briefly delayed due to rain.  After a 40-minute delay, weather was excellent for the remainder of the day.  Three of the seven contestants were making their FarmGolf debut, with both teams playing best ball and being allotted four shots each time.
Final results for the tournament were +4 for the 1st place team and and a +7 for the 2nd place team.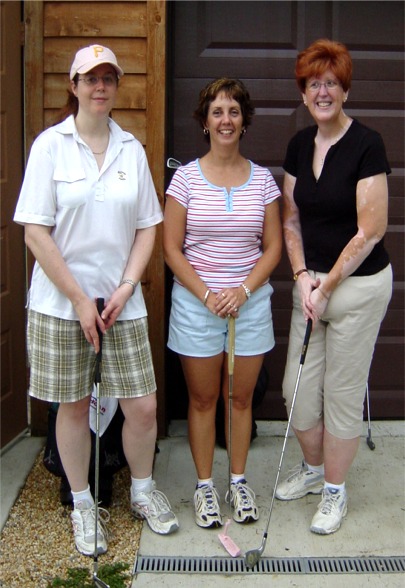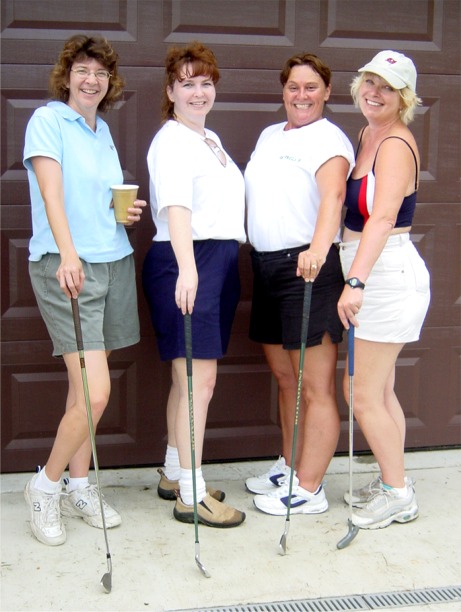 British FarmGolf Open Features Lowest Scores in FarmGolf History
(FGP)   In one of the most intense tournaments ever, the two "so-called washed up FarmGolfers", Mike Green and David Smith teamed with fast rising newcomer Larry Smith to set a course record for 3-man team play, carding a 14 under par final, featuring 4 eagles, two on No. 1 and No. 5.  With the prestigious FarmGolf Major Winner shirts available only to individuals that have won a minimum of one major, competition was often heated during the day.
Two of the teams were allotted only 3-shots, with the other four teams having 4-shots on each best ball.  The two three-shot teams finished the day in 1st place and 6th place.
The tournament format is expected to undergo changes prior to the FarmGolf PGA Championship after a post tournament Board of Directors meeting.  The next tournament will most likely feature all golfers being classified at one of three different levels, each 3-man team having a single golfer at each classification level, and finally each team getting only a total of three shots in the best ball format.
2004 British FarmGolf Open Scoreboard
2004 British FarmGolf Open Gallery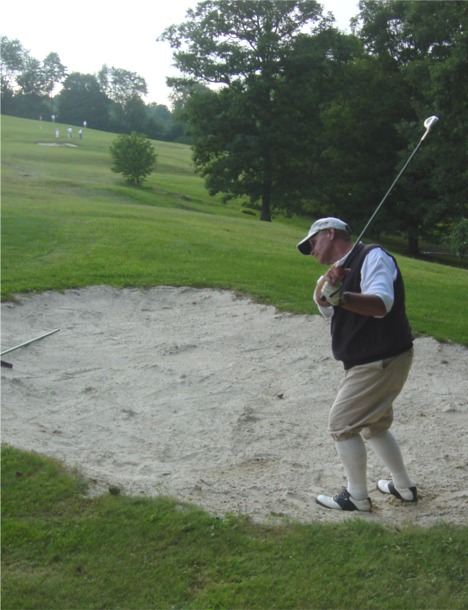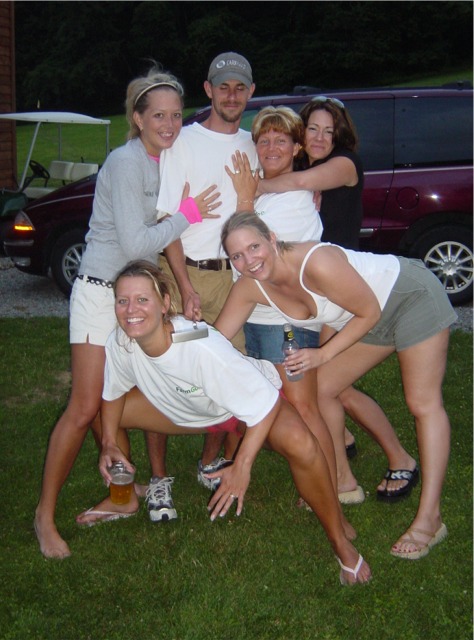 Marketing Director Report Delayed
(FGP)   For unknown reasons, the report by the new Marketing Director was not presented at the British FarmGolf Open.  Several FarmGolfers were very dismayed at this development and have made it known to the Commissioner.  Stay tuned for further updates on this developing controversy.
What Does It Take?
By Nine Irony
What does it take to be a star?
Exactly how many under par?
Just when you think you've got it down,
Here comes another, low stroking clown.
I'm not looking to be Tiger or Jack,
Just once in a while to bring first place back.
The day was perfect, sun in the sky,
This was the day for my piece of the pie.
Half way through I was feeling good,
Playing well, thinking we could,
Then Eric flew over in his flying machine,
Bringing joy to the crowds on the FarmGolf scene.
I went to the clubhouse feeling great.
Had a brew and filled my plate.
Later, I went to check the charts,
Ended up in fifth!  Ouch, that smarts!
I mean, when five under par wins one tourney,
You'd feel pretty good if on your next journey,
You ended up five under, you and your team,
But ending up fifth, made me scream.
I felt my team was heaven sent,
But five under par was wasted, spent.
This describes my last FarmGolf event.
Just ask Uncle Greg, he went.
2nd Annual Celebrity Golf Challenge Set for August
(FGP)   As a follow-up to last year's very successful Celebrity Golf Challenge, FarmGolf will host an important pre-election tournament.  This tournament will occur sometime in August and the tournament details will have to remain secret for security reasons.  Only FarmGolfers and their immediate friends and families will be able to attend.
FarmGolf regrets the inconvenience that this places upon our extremely large fan base, however, you can be assured that a complete summary of this historic event will be posted upon the website immediately upon conclusion.  FarmGolf promises that next year's event will again be open to the general public.